Edited to add: For several years, after Larry Jordan and I established the Wildlife Conservation Pass Project, the idea of a wildlife watchers' stamp or pass gained quite a bit traction and support. It was to be an alternative and additional revenue stream to tap into the economic potential discussed below, and also to bring added income to refuges which have been historically underfunded.
When the new administration took over in 2016, exhibiting from the start its hostility to environmental ideas, we put the project on hiatus. We hope to revisit it at some point in the future. It remains to us a viable, important, and workable solution for bringing revenue and important stakeholders to the table of wildlife decisions.
Wildlife Watchers – Flaunting Our Economic Potential
This is Part 3 (of 3) in a series on non-hunting revenue streams for our National Wildlife Refuge system. In Part 1 I talk about the issues surrounding the current funding system. In Part 2, I interview Marlin Greene who's been producing an alternative refuge stamp since 2006, to draw attention to this subject.
Here are some figures from the 2006 U.S. Fish and Wildlife Service (USFWS) Publication, National Survey of Fishing, Hunting and Wildlife-Associated Recreation:
"More than 71 million people 16 years old and older (31% of all Americans) fed, photographed, and observed wildlife in 2006 and spent nearly $45 billion on their activities. The Survey uses a strict definition of wildlife watching. Participants must either take a 'special interest' in wildlife around their homes or take a trip for the 'primary purpose' of wildlife watching. Secondary wildlife-watching activities such as incidentally observing wildlife while pleasure driving are not included."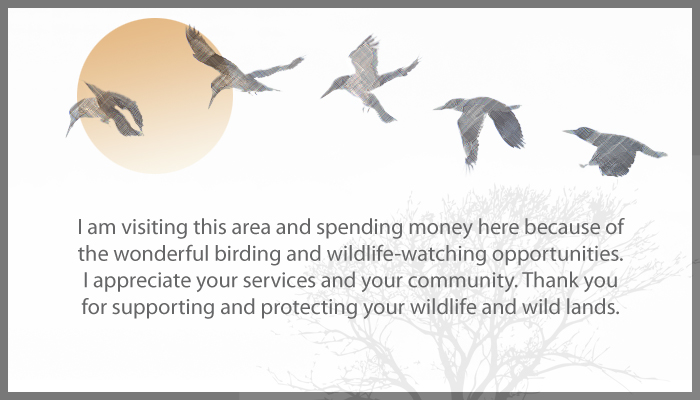 More Numbers
Of this 71 million, almost 23 million (32%) participated in taking trips away from home (**away-from-home participants are defined as those who travel more than a mile from home to engage in wildlife watching)
48 million of this 71 million are birders (from Birding in the United States, USFWS)
Total Expenditures by Wildlife Watchers: $44,694,768,000
Trip-Related Expenditures: $12,971,087,000
Total Equipment Expenditures: $31,723,681,000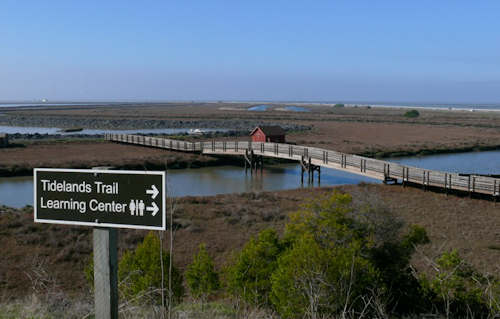 Those stats should feel empowering in terms of the conservation efforts we could, as a group, consistently finance. But even as the numbers of wildlife watchers and birders grow, this potential revenue stream has not been fully tapped in terms of National Wildlife Refuge funding. At the same time, the Refuge system faces the constant threat of deep and debilitating federal cuts. This Defenders of Wildlife post describes the foreseeable consequences of cuts to refuges — outcomes that include staff reductions, program closures, and the elimination of law enforcement positions.
Increased Momentum For Non-Hunting Revenue Streams
In Part 1 and Part 2 of this series, I discuss why a non-hunters' wildlife stamp, an alternative to the Federal Duck Stamp, is a good idea for non-hunters and for the Refuge system as a whole. There are a few precedents on the state level for a Wildlife Watchers' alternative. As a writer commented on the 10,000 Birds website, Ohio implemented a Wildlife Legacy Stamp which funds habitat restoration, land purchases and a variety of wildlife research projects. Washington State has a Watchable Wildlife Decal, the funds from which "must be dedicated to the support of the department's watchable wildlife activities."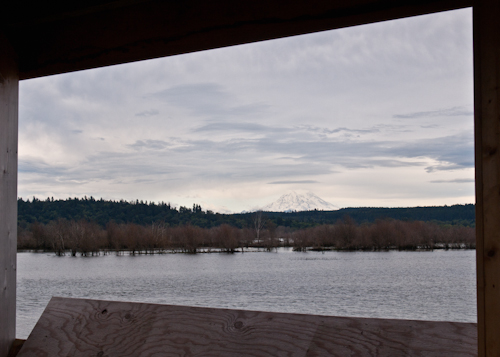 Getting Our Voices Heard
These stamps are not mandatory for non-extractive users the way Federal Duck Stamps are for hunters on Refuges. So, key components in the success of voluntary funding measures are public awareness of the projects, and organized efforts behind the causes they represent — most notably, habitat and wildlife protection.
Sportspersons have an organized and powerful alliance consistently protecting their interests on public lands. Groups ranging from local hunting organizations to the NRA regularly rally sportsmen and women behind their various measures.
There isn't yet a comparable consortium of non-hunting interests to promote the Wildlife Refuge issues important to those of us who do not hunt, but who are equally invested in the health and ecology of our National Refuge lands. It's up to us right now — at the grassroots level — to increase our visibility, to identify our own priorities in terms of Refuge management, and to be persistent in showing just how viable an economic force we are and can be. Money never stops talking.
Increasing Our Visibility as Wildlife Watchers
1) CONTACT CONGRESS: Make yourself known to your representatives. Members of Congress frequently hear from their hunting constituents, requesting increased hunting privileges on public lands. Let your representatives hear your perspective on National Wildlife Refuge issues, reminding them of the economic and purchasing power we hold as constituents. If you have specific concerns about refuge lands or funding streams, address those as well. Congress has a Find Your Representative database search and contact form online.
2) PATRONIZE LOCAL BUSINESS: When you travel to birding or photography locations, let local businesses and community members know that you are there precisely because of the opportunities the nearby National Wildlife Refuge offers in the way of birding and wildlife viewing. It helps if people understand just how much birding and other non-extractive activities bring into the local economy and tourism industry.
3) BIRDER'S CALLING CARD: A number of birding organizations have pre-printed calling cards online which state this very thing: I'm here and spending money because of the birding. You can Google "birder calling card" for some of those samples.
4) EDUCATE: Educate others about the National Wildlife Refuge System and encourage them to visit and contribute. I spend a lot of time in open spaces and refuges, and used to take it for granted that most people knew about these places. A wildlife advocate reminded me that a lot of people have never even visited a refuge. And, that fact makes it difficult to muster public support for protecting and funding the refuges when these issues come into play.
I admit it's psychologically difficult for me to photograph on some Wildlife Refuges during hunting season, owing to the nearby hunting pressures on the refuge birds. In lieu of abandoning refuges entirely during the height of winter migration, I make a note when I pay my refuge fee that as a wildlife rehabilitator and a photographer, the amount of hunting present does affect how often I visit that particular refuge. Where hunting occurs everyday of the week or dominates refuge activity, generally, I choose not to visit. My own experiences with stressed birds in hunted areas contributes to that decision.
5) BUY LOCAL WATCHABLE WILDLIFE DECALS: If you live in a state that offers a local Wildlife Watchers' stamp or decal — where funds are allocated toward protecting the biodiversity of the state's ecology — be sure to support that program and encourage others to do so.
6) MAKE SURE YOU'RE COUNTED: If you choose to buy a Federal Duck Stamp, buy it at a National Wildlife Refuge office that keeps track of the purchasing demographics. Make sure the refuge knows and notes that you are buying the stamp as a wildlife watcher or photographer. If you buy the Stamp online or at a post office, this statistic is not recorded.
7) KEEP CURRENT: Stay on top of Wildlife Refuge news, and get behind the measures you support by donating, writing letters or advocating in some form. One of my information sources is the Defenders of Wildlife refuge page. Defenders is actively involved in a multitude of wildlife and habitat issues which I support. The nonprofit National Wildlife Refuge Association keeps current news on their front page. The American Birding Association  has extensive information on worldwide conservation efforts and issues.
8) FILL IN THE BLANK: The above is just a sample of  small actions that can amount to much larger results, particularly if they present in numbers. If you have other suggestions or ideas, definitely post them in the comments section and I'll add them to the list.