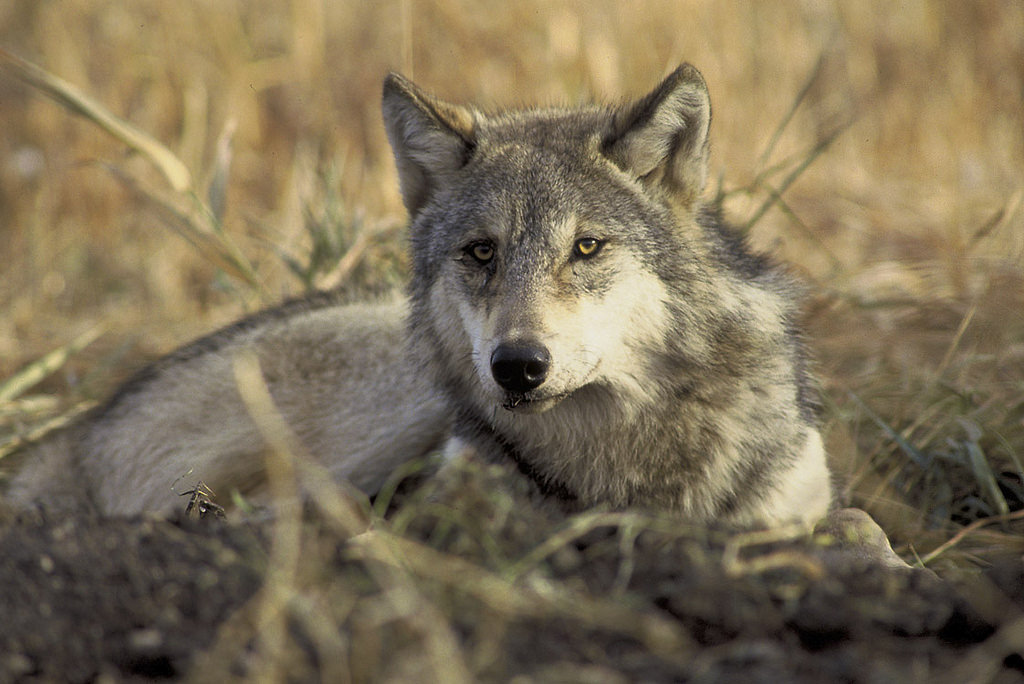 One way to illustrate what's at stake in removing protections from gray wolves, is to quote the people who've effectively been given legal license to kill them. I will not link out to their websites or Facebook fan pages (some of which have thousands of fans — one has more than 18,000), but I can assure you this rhetoric is frequently accompanied by gruesome imagery of dead wolves. I've posted just a smattering of their words, from a much larger supply, at the end of this post. [Crudeness warning.]
Wolves were delisted in the Northern Rockies (by Congressional budget rider) in 2011. Now, the  U.S. Fish and Wildlife Service proposes further removing gray wolves from the ESA in the lower 48 states, undermining decades of recovery and leaving the fate of wolves in the hands of states, where politics and powerful financial constituencies have considerable influence.
We cannot let gray wolves lose their federal protections.  As The Center for Biological Diversity and other conservation groups wrote in their letter to Interior Secretary Jewell:
"Collectively, we represent many of the scientists responsible for the research referenced in the draft rule. Based on a careful review of the rule, we do not believe that the rule reflects the conclusions of our work or the best available science concerning the recovery of wolves, or is in accordance with the fundamental purpose of the Endangered Species Act to conserve endangered species and the ecosystems upon which they depend."
The Predator Defense website has a rational counterpoint to the anti-wolf rhetoric: Wolf Myths and Facts. Among the figures they cite: 1,703 wolves have been slaughtered in Idaho, Montana, Wyoming, Minnesota and Wisconsin since the 2011 delisting.
An easy way to show your support for wolf protection and conservation is to use the template at the NRDC website to send a message to Secretary Jewell.
Added from Larry's comment below (thanks, Larry): And there is an essential, critical step to take — using the 90-day public comment period to let U.S. Fish and Wildlife Service know that this is simply not an acceptable proposal or conservation measure. To be effective and heard, use reason-based commentary (Predator Defense is a good resource) and avoid strictly emotional arguments. Link to the USFWS proposal and public comment information
Random anti-wolf sentiments:
"What's the difference between a dead wolf and a septic tank? I don't have a septic tank buried in my back yard."
"I may have both in mine."
"Put some in the flower bed. Makes the wife's tulips grow better."
"Good day on the trap line!" (with photo showing two trappers and  seven dead wolves)
"Smoke a pack a day!! Great work guys!! SAVE THE ELK!!"

"Every dead wolf laying there saved 22 elk each … per year!"
"I fired nine shots at the five running wolves and killed four. I got the alfa male and female. My dad weighed the alfa male on his calf scale and it is 110 pounds. The alfa male is the grey on the far left and the alfa female is the black on the far right. I was using a .270 win and 130 grain Barnes Triple Shocks. I just bought that Ziess rapid Z 800 from 209×50. That is an awesome scope."
"Great shooting killing the worthless vermin wolves."
"I haven't posted a wolf all tangled up in a while. Here's a pretty one." (with photo of wolf strangled in trap/snare)
"This picture really bothers me. That animal would look so much better if his best friend was hanging beside it. Lmao."
"Breaking News – National Wolf Delisting Rule Announced."
"I can just hear them bawling & having candlelight vigils over the damn things dying. Wolf tags 20/box. I love it."

"The worthless cry babies in the wolf cult are going to have to get a real job now instead of crying over wolves. To all the worthless deadbeats in the wolf cult GROW UP AND DEAL WITH IT CHILDREN!!!!!!!!! HAHAHAHAHAHAHA"'
(photo of a guy holding a dead wolf around the neck)
"What does wolf taste like anyway? Bald Eagle. LOL."
"With a majority of Wolf Hunt advocates on the Wisconsin Wolf Hunt Council, the state is poised to increase the limit to 275 this fall."
"Mmmmmmm peppercorn teryaki wolf jerky!!"

Wolf season? Isn't it 24-7? It is when I see them!!!"
Yep. 250 is a good possession limit. I'm bout half way there."
"Enjoy the slaughter as you will be the last generation to carry on this way."
"Yellowstone wolf research? Nasty wolf humpers …."
"If you are in search of a Trophy Wolf Pelt, then hunting wolves during the winter months through March will produce better results. Our Idaho wolf is easier to track in the snow, has had time to grow larger, and will have prime winter pelts." (from a guide service)
"Who's ready for this Fall's wolf season? What will be your plan of attack if your get drawn? If I get drawn this year I was originally going to use my bow, but I think I'm going to use my muzzleloader this year since I haven't used it yet for anything else. Might as well have it's first blood be from a wolf."
"Heading to Montana for 10 days for them …3 a piece $50.00 for nonresident …"

".270 short mag. send em rollin."
"You call the shots: Would you shoot, or would you pass in hopes of getting a better chance later on? Note that you only have the archery or firearms that are listed below!
Animal: Wolf – Method: Compound Bow – Distance: 45 Yards – Wind: 15 mph left to right
"Fucker would be dead!"

"SHOOT! Wound em! Lol the only thing you're out is an arrow n a broadhead."
"Shoot this one then go find my next one shoot as many as you can."
"Shoot! Just connect! Anywhere helps! Wound maim but hopefully kill! Don't tag it! Just find another one! Repeat! This is not about hunting! It's about conservation of the rest of North Americas wildlife! We are under seige and normal rules and ethic do not apply!"
"45 yards… right through the eye."
"Smoke that meat stealer."
(photo of a hunter with dead wolf hanging alongside two dead deer)
"Hang em high."
"That's awesome! Hell of a trophy!"
"Great pic an congrats. they need to make wolf season like coyote season. Get rid of them all."
"Mmmm wolf tastes like soy burger . Maybe u will like it u tree huggin pricks."
"Do u tree huggers have ur own page so we can rip on everything u do . Go drink ur tea and stick ur thumb up ur ass u worthless pieces of shit."
"Way to go the trees should be full of those rodents they are worthless and need to be wiped out."
"Where I live(Outing) the deer population dropped a ridiculous amount in the oaks where we've hunted for years and years. Sitting outside on our deck at night when the pack gets a kill the woods lights up fucking every which way, eeriest sound you'll ever hear. That being said it doesn't really matter if there is a wolf season or not, they'll just continue to trip on logs and not get up. So you naturalist hippy douchebag citiots that come up here once a year for the weekend just need to shut your shithole. Whether it be for fun, for sport, or overpopulation, they need to be pushed out of here."
"This is the best picture i have seen in a long time in no way is this appalling its beautiful wolves are vermin like stray dogs kill them all. Any wolf hunter is welcome at my place all u other people stay where u belong in some city with your heads up your asses."
"It turned out that he was the only one I'd caught, and he was one of the pack's young sub-males. Still, it was a wolf, and although I've been in my fair share of exciting woods experiences, there is nothing like seeing that you've actually caught a wolf. It didn't work out like I'd hoped, but wolves are like that. They often will do what you least expect them to, and getting just one to step on a 3-inch pan in the middle of miles of wilderness is an accomplishment for any trapper. I still have a couple of months to try my wits against the rest of the pack, which is now smarter, but that's what really makes wolf trapping fun."
" … AK has no set time limit on checking traps. I believe this is mostly due to logistics. for most trappers it would be impossible to check their sets every day due to their remoteness and the money and time it takes to check them. The vast majority are very responsible, and check as often as is reasonable, which for me is usually once or twice a week. thanks for the question."

"On a most recent float hunt I was on I got lucky (The good Lord was smiling down on me I believe) and managed to come across a pack of wolves while I was looking for a moose. I managed to take down three of them. I can't say that they were helping eachother, but after the largest of the pack ran off, the others were confused and amid the confusion they didn't really know which way to run. I think they were looking for their leader and the leader already took off. The wolves were all young. I would say about 85 lbs a piece. After I shot one they began scattering but they were unable to determine where the shots were coming from because I was above them and with their leader out of the picture they were more vulnerable." (with photo of three dead wolves piled across each other)
"congrats on that wolf kill, wackem and stackem!"
"That's how it was done in the old days. 'Roping Gray Wolf' … 'Round Up in Wyoming.' (with archival photo of men on horseback choking a wolf by rope)