Fishing Gear is a Wildlife Hazard
There's not a fishing pier I visit that doesn't have some level of dangerously discarded monofilament, hooks, and other wildlife hazards. These photos were shot at the Coast Guard pier in Monterey, and these particular hooks and lines were cast in the "no fishing" area, behind a fence.
Sea Lion with Fishing Line Injury
The photo below shows a California sea lion with an entanglement injury. This sea lion was one of the fortunate ones, rescued, with the strangulation element removed. Even after removal, the sea lion bears the significant scar from that injury.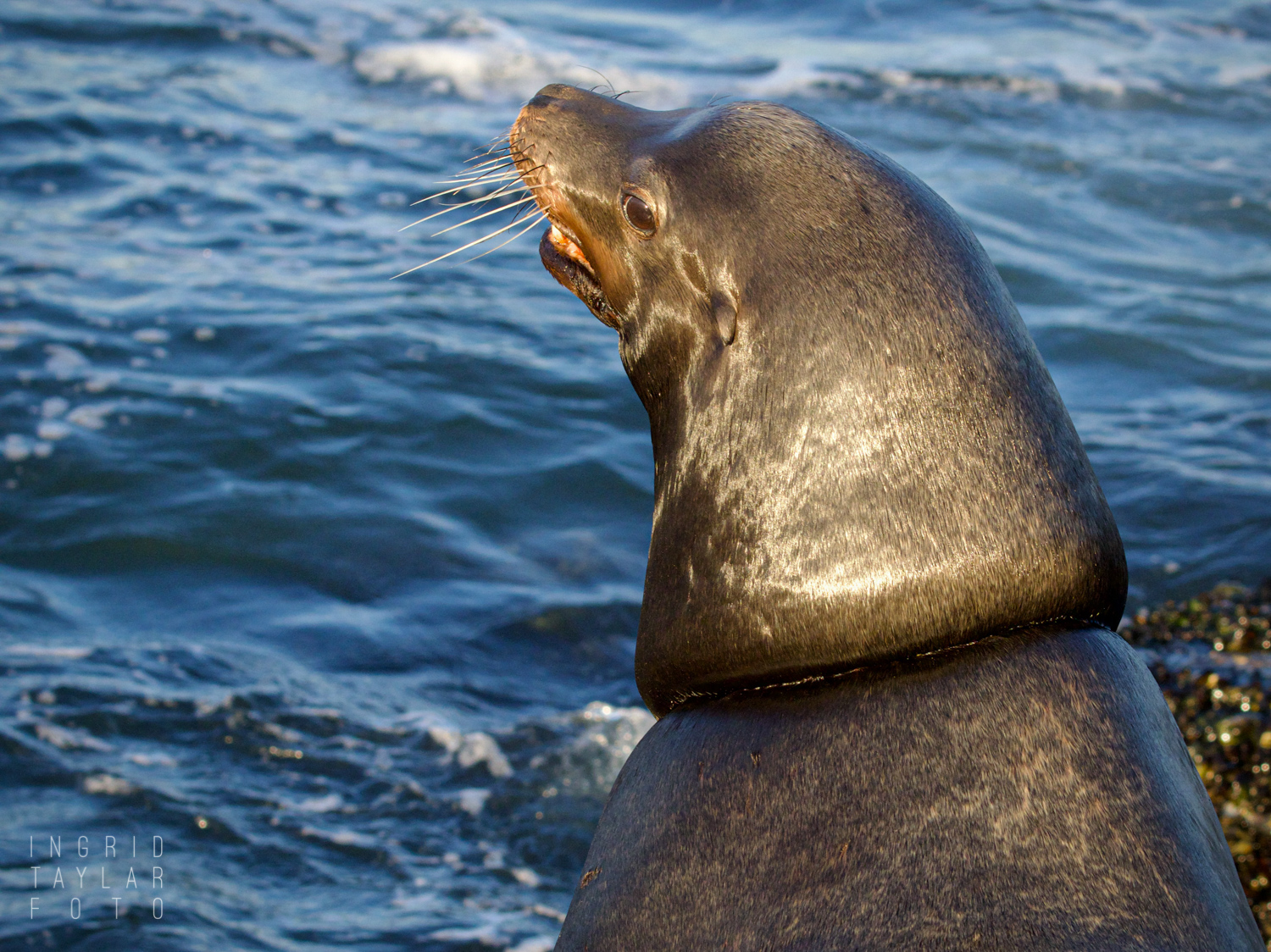 The next photo is of a sea lion swimming near the old Wharf in Monterey with a serious fishing-line entanglement around the face. I didn't see the injury until I offloaded my photos later on.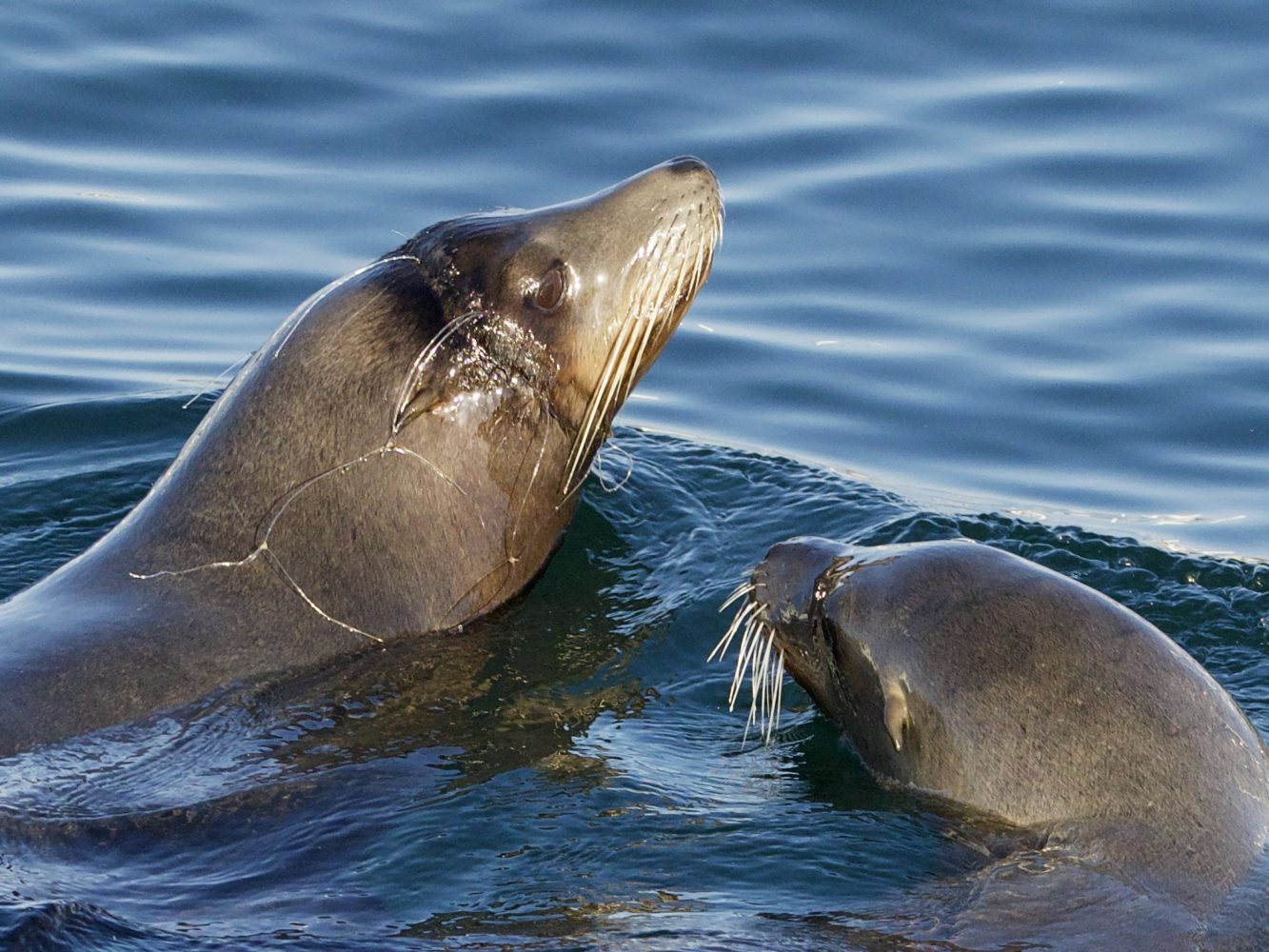 Fishing Debris is Killing Too Many Wild Animals
Fishing gear entanglements are, by far, the most frequent wildlife injuries I see. Sometimes the animals can be rescued, but too often they can't, or they suffer away from view.
On a global level, marine debris that includes fishing gear causes significant death and injury. From NOAA:
A review by Kühn and van Franeker(link is external) found that to date, over 350 species have been found entangled in marine debris. That number will likely increase over time as wildlife continues to encounter our trash. The study also found that all seven species of sea turtles have been found entangled in marine debris, as well as nearly one third of seabird species, and nearly forty percent of marine mammals, including seals, whales, otters, and even polar bears. This is especially significant for seals and baleen whale species, of which over seventy percent of species were documented to have been entangled in marine debris. 
To be fair, this pier has some of the best signage I've seen for protecting wildlife. There are numbers to call for both birds and marine mammals. I've witnessed an amazing, multi-agency rescue response when I came upon an entangled sea otter (named "Agua" at the Marine Mammal Center).
The pier has multiple monofilament recycling bins along its full stretch. Yet, it's impossible to avoid these types of injuries because the fact remains that fisher people cast in the same areas where animals haul out. They cast along rocks covered with mussels, where monofilament consistently gets caught on the sharp edges of the shells. They cast, sometimes, toward the breakwater where birds nest and sea lions rest.
Although stray fishing gear causes untold amounts of harm to wild animals around the globe, there are areas where the hazards are particularly acute because of proximity to large numbers of wildlife.
Wildlife education and ethics are not requirements for a fishing license. They should be part of that responsibility.
As an example, the scene in the photos below happened after we witnessed multiple fisher people casting into an area on the same pier, dangerously close to cormorant nests. There is a clear "no fishing" sign posted on the fence separating the main pier from the nesting area.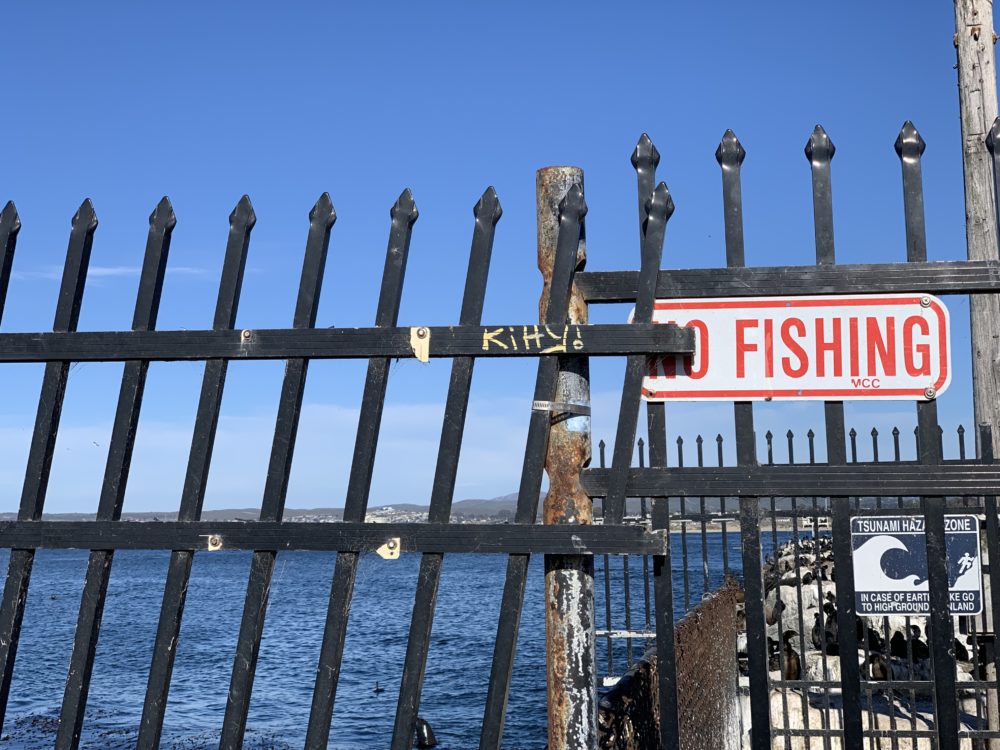 We asked them if they could move their lines and avoid the nesting area … to no avail.
A day later, this is what we found. In the photos below, a cormorant looks to be entangled in monofilament. The monofilament stretched taut from a nearby fence, and we weren't sure if the end was hooked into the cormorant's wing or leg, or affixed to the nest.
With help from local authorities, we got the monofilament cut to prevent serious entanglement of the adult birds or the chicks they would raise at this location.  Another fishing line in the same area was found and cut. In this case, it was good fortune that the monofilament was removed before it strangled and killed any birds. So many of these injuries go unseen, unresolved.
It would help if fishing were at least prohibited or more restricted in areas where animals are known to feed, to haul out, and nest.
If you come upon fishing monofilament or hooks and there are no recycling bins, discard the items into a covered trash bin. Obviously, handle any hooks or rusted pieces with great care if you pick them up. I carry gloves, scissors, and a bag for disposal in my camera backpack.
Report Injured Marine Mammals or Birds
ingrid
2023-12-03T05:49:13+00:00
ingrid
2023-12-03T06:20:11+00:00