12/31/12: I edited this post early this morning to correct for some late-night syntactical issues.
"The piercing light of her eyes is a reminder there is light upon the dark path no matter how doubtful it might be …. Owl can navigate the dark realms of the night and still sustain her nourishment; if you feel lost, the Owl can help you find your true path once again."
~ From The Bohemian Collective
It's as if the Snowies came to Seattle with a message of goodwill.
The first Snowy Owl I photographed in this corner of Seattle was on a chimney above a tile roof. She yawned at first, then gaped repeatedly to the point where I thought she must be coughing up a pellet.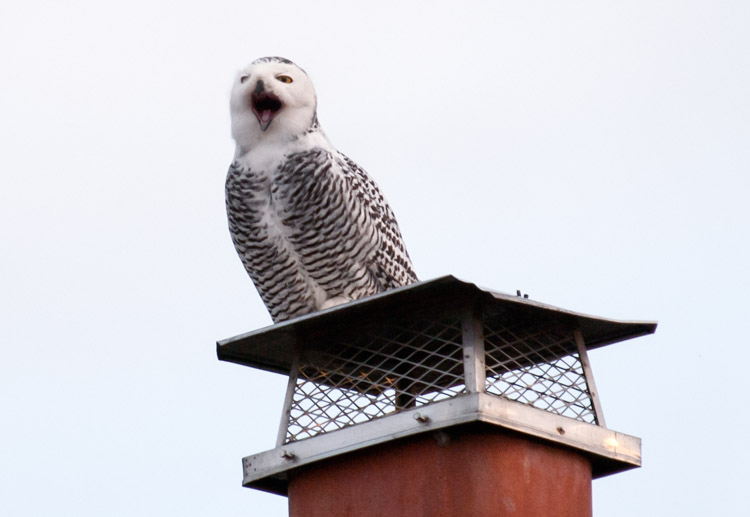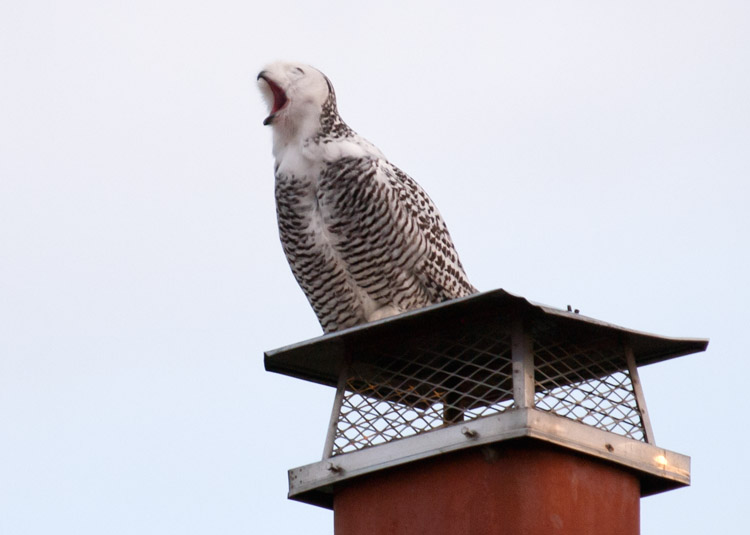 There were four of us who spotted her on the walk and stopped to quietly observe for a few minutes. None but me had a lens, so I passed my little travel binoculars around to exclamations of "oh my god, it's really an owl!" Two people meandered away, leaving me and another woman who struck up a conversation about owls and the crows who mob them … then about John Marzluff's latest book, Gifts of the Crow.
For the past few weeks, two or three Snowy Owls have been moving about the neighborhood, not far from our place, pressed against chimneys or huddled in fir trees, flinching at the crows who swipe at them. The owls appear to take human attention in stride, but I'm careful not to diminish their experience. The good thing is that I've seen respectful observers, most of whom stop to appreciate the vision in white, then move on.
I captured this flight shot at sundown and — as usual in Seattle — flat gray light. That's where I default to "bird noir," as I'm sure you've noticed. A few of us watched the owl hop from rooftop to rooftop to tree, escaping the harassment of crows.
On the Friday of the Newtown tragedy, I was passing through the neighborhood on my way home, feeling despondent, overcome with personal and cultural grief. I didn't feel right chasing Snowies, I'm sensitive to their celebrity and have mixed feelings about indulging my enthusiasm for them. So, on this day, I made a deal that if I saw a Snowy Owl in passing as I headed home, I could stop. Otherwise, I would keep on truckin. As I headed south, past the mid-century ramblers and brick Tudors, a solitary Snowy Owl stood out like a … well, like a Snowy Owl. She was silver against a cloudy dusk, preening on a chimney top.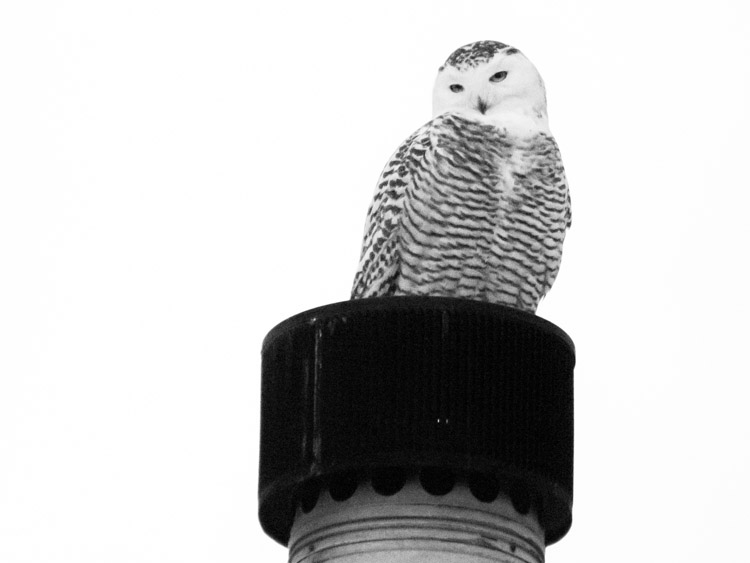 As I was leaving the area, a mother and her 12-year-old son, a little short of breath, rushed to the corner. "We heard there was a Snowy Owl here, have you seen it?" Seeing her son's excitement, I showed them the Snowy preening on the roof.
A neighbor emerged from her front door and offered the boy her binoculars. "The owl stops here once in a while," she said. The boy looked through the lenses and kept saying, "wow, wow, wow! This is the best day of my whole life, the best day of my whole life!" His mother explained that it was her young son's life goal to see a wild Snowy Owl in person, and he was now the happiest boy in the universe … in our little universe anyway, on a day when so much had transpired to shake the faith of every person I met. Seeing a boy, unabashedly elated over an owl sighting, scraped a few of the doldrums off our hearts.
I've been saying "she" but through conversations with other birders at this site, I've come to learn that there are few, easily distinguished marks between males and females on the juvenile Snowy Owls. I've been defaulting to "she," simply because the juvies have some of the coloration of adult females.
When Hugh returned home for Christmas, after two months away and only five days at home, I told him we should see if the Snowies were still around, then take a long walk and grab a coffee. (If I offer coffee or a meal out, I guarantee myself a photography companion.) That day, this is who we saw: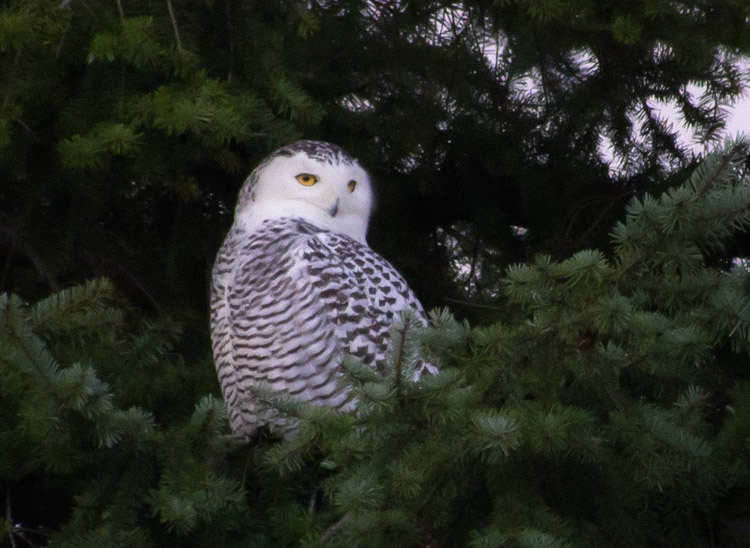 As we left the owl, intent on the local bakery, a birder approached with binoculars. In typical winter fashion, the Seattle sky opened up and gushed — and the three of us stood drenched but engaged in conversation about Snowy Owls, Seattle Audubon, and how the birder hoped beyond hope that the Snowy Owls would still be around for the Christmas bird count this year. We told him we were going to check the alley under the fir tree later for owl pellets. He, in turn, told us where we could take the pellets to get the contents analyzed.
We discovered that Snowy had, indeed, chucked up pellets just under her perch — the mushiest, most rain-soaked pellets I'd ever collected. I picked what I could from the mess and put it into baggies for our citizen science project. (The baggies are still in our freezer, waiting for a convenient drop-off.)
Because of the Snowies, Hugh and I found a cozy bakery we didn't know about, with the smoothest, stiffest Americano in the neighborhood. So, we headed to the coffee bar again and had the good fortune of seeing Snowy Owls while walking off the caffeine jitters. By a local rooftop, we met a man who was near tears of joy, looking through his binoculars, awestruck over seeing his first-ever Snowy Owl.
I've been touched by how people are reacting to a solitary owl on a red-tile roof. So far, it's been reverential, usually quiet, often just a few people walking their dogs who happen to look up. I've been surprised and grateful that people who spot the owls tend to stand at a distance on the other side of the street, not angling for an intrusive view. The temperament of these viewings is an about-turn from what we experienced during last year's irruption on the plains. The generous neighborhood residents also set a consistently civil tone for the Snowy Owls, even when they find lenses or binoculars pointed at their chimneys and bedroom windows.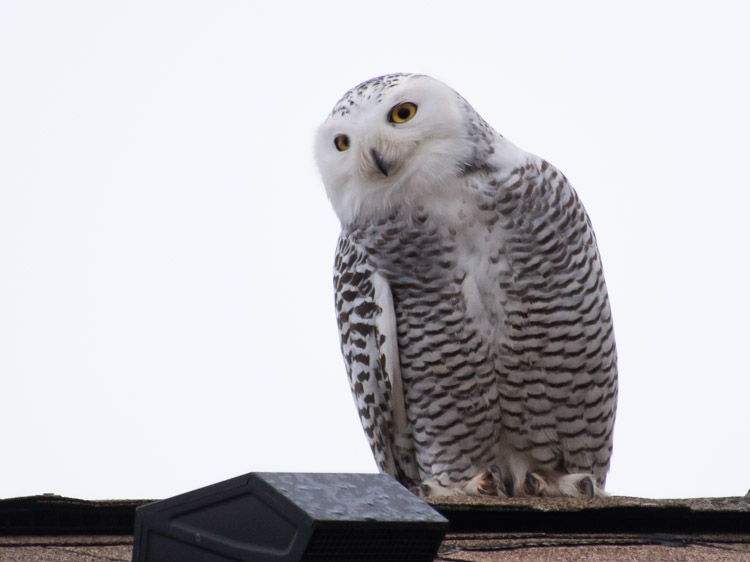 Around my sightings and coffee stops, I've met children's book authors, puzzle experts, dog rescuers, Scottish expats, Flickr friends I hadn't seen, Seattle natives whose families go back to the earliest settlements, runners sweating cold with icicle fingers and popsicle toes, who've all stopped for a glimpse of an owl that's creating magic in the murk of a Seattle winter. Some of them said they were changed by the experience, saying they're now more attentive to the wildlife in our urban midst.
I'm calling the owls the White Birds of Happiness — a role I know they did not choose, a designation that's blatantly and pathetically anthropocentric, and one I truly hope is not detrimental to the owl's sense of well-being. Wild animals are famously stoic, even when in pain. And, we don't know how well fed or robust they are right now in body and spirit. As one example, the Snowy Owl who landed in Capitol Hill this year was undernourished and rehabilitated by Sarvey Wildlife in Arlington (WA).
These Snowy Owls appeared like winter beacons and their popular draw, with those furry faces, is easy to understand. In a world with far too much disregard for wildlife, the Snowies here seem to have brought out the better aspects of human nature, at least when I've been present. I hope we've all indulged our excitement without causing additional stress for our beloved winter visitors. I stayed a bit too long the last time I was there, watching a Snowy Owl rouse herself from sleep and skip around the neighborhood, evading crows. So, I'm cutting myself off from the Snowy Owl fan base for now.
Thank you, Snowies, for putting up with us humans and our randomness. I'm convinced, always, that we are here to learn from the four-leggeds, flyers, crawlers and swimmers … never (or rarely) the other way around.
Here are a few additional Snowy Owl shots I've taken in the course of these walks.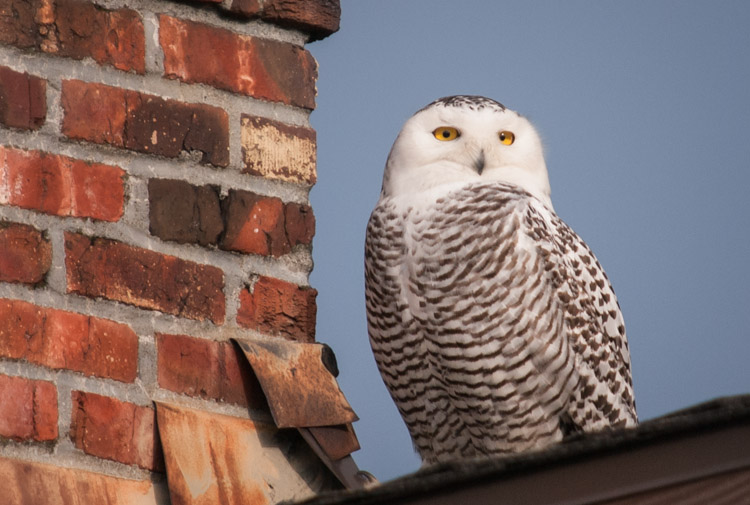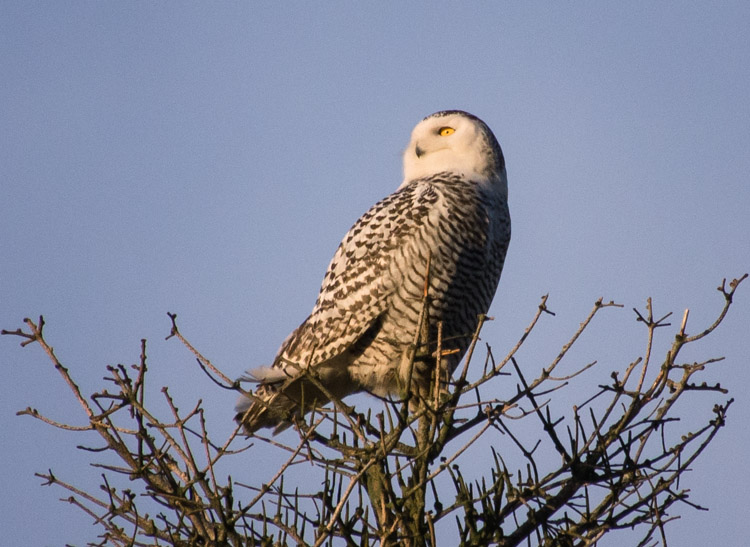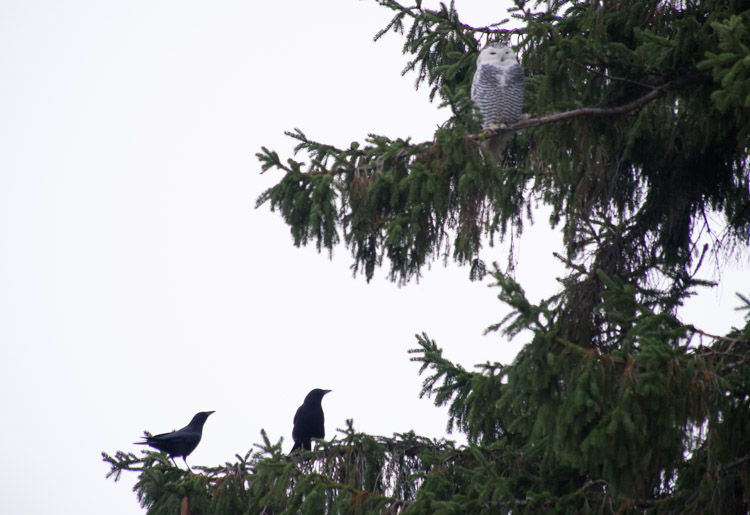 Related owl posts: A Sneeuwuil By Any Other Name | Bird Verse: Eastern Gods | First … Signs of Snowies