About Spencer Island, Washington …
Described by Audubon Washington this way:
"A cornucopia of species! Come year-round for Bald Eagles, Great Horned Owls, Northern Harriers, Belted Kingfishers – and woodpeckers: Pileated, Downy, and Hairy, plus Northern Flickers and Red-breasted Sapsuckers. Spring-summer find Tree and Violet-green Swallows, plus Ospreys, Wood Ducks, Blue-winged Teal, Western Tanagers, Black-headed Grosbeaks, Band-tailed Pigeons, Red-eyed Vireos, Common Yellowthroats. Long-billed and Short-billed Dowitchers migrate through in fall. Look for Merlins, Peregrine Falcons, Orange-crowned Warblers, Lincoln's Sparrows in winter."
The Snohomish County parks department has this to say:
"Spencer Island is one of the best places in the Snohomish River Estuary to view waterfowl and shorebirds. Deer, coyote, river otter, and a host of small mammals and amphibians also inhabit the large island."
Last month, when I was photographing robins eating winter berries outside our flat …
… a woman walked by and asked, "are you taking pictures of those kids sledding?"
I scanned the landscape. No birds. No movement. No animals.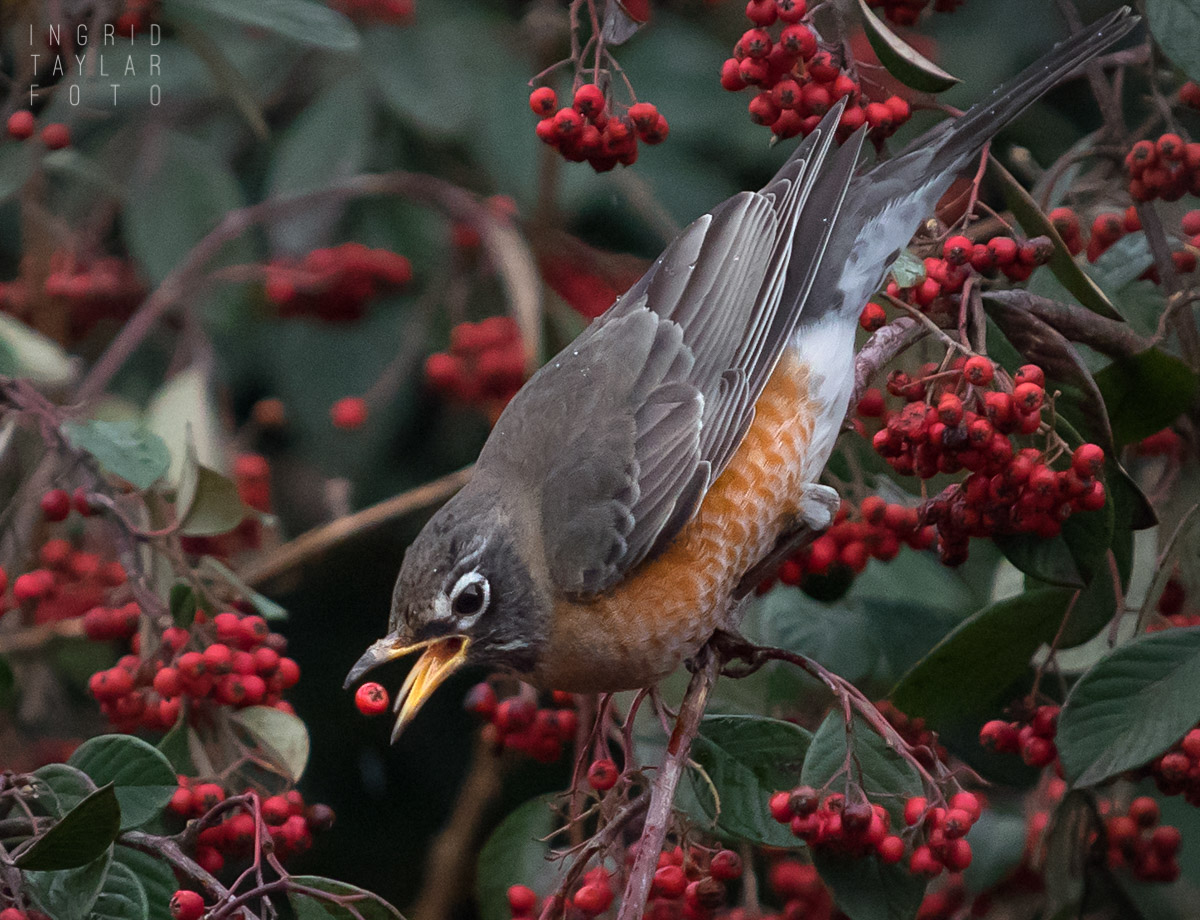 She said, "well, if you like photographing birds, you should go to Spencer Island. It's the most awesome place. You won't regret it."
I'm still exploring the Pacific Northwest, so I had to look up Spencer Island Regional Park on the interwebs. Half of the park belongs to Snohomish County, the other half belongs to the Washington Department of Fish and Wildlife (WDFW). So, the southern half tends to be populated by walkers, cyclists and dogs (on leash) and the northern half is hunting territory during waterfowl season. Both halves are known for their wintering waterfowl populations, among other species. This week, I decided to visit that bisected park.
Here in Seattle, you wait for the sun. And wait. And then, when it breaks, if you're lucky enough to have a few free hours, you go somewhere — anywhere — where you might get off a few frames before the clouds obscure the light again. That's what I did. And I ended up alone on a short gravel road, leading into a flat land of marshes and tree snags which looked perfect for perching raptors and foraging birds.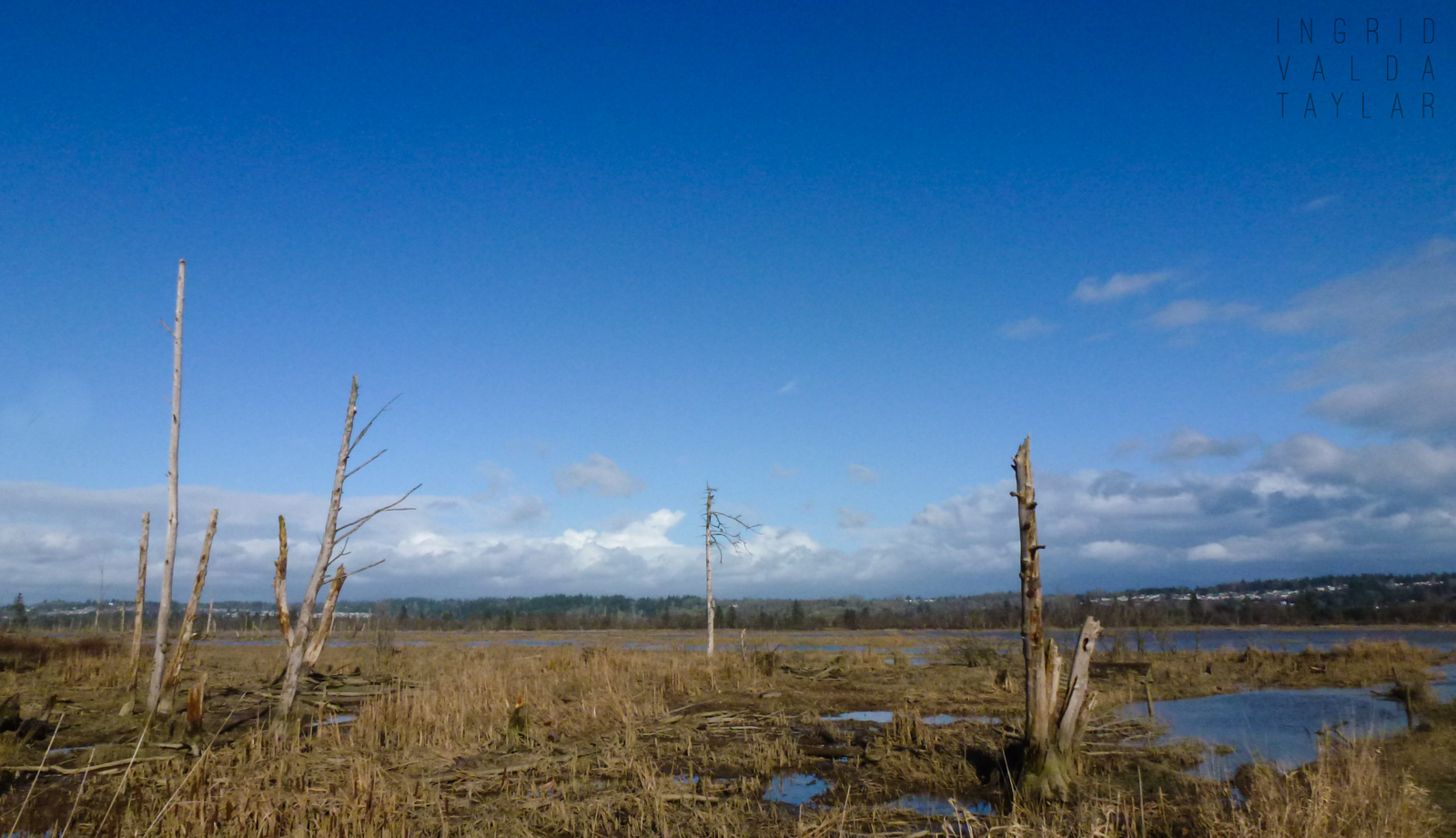 Ahead was a bridge that straddled the divide described above. The left turn (north onto WDFW land) spells out hunting regulations. and the right turn (south on Snohomish land) is posted with "No Shooting, No Hunting" signs. It's a park with a demilitarized zone. 🙂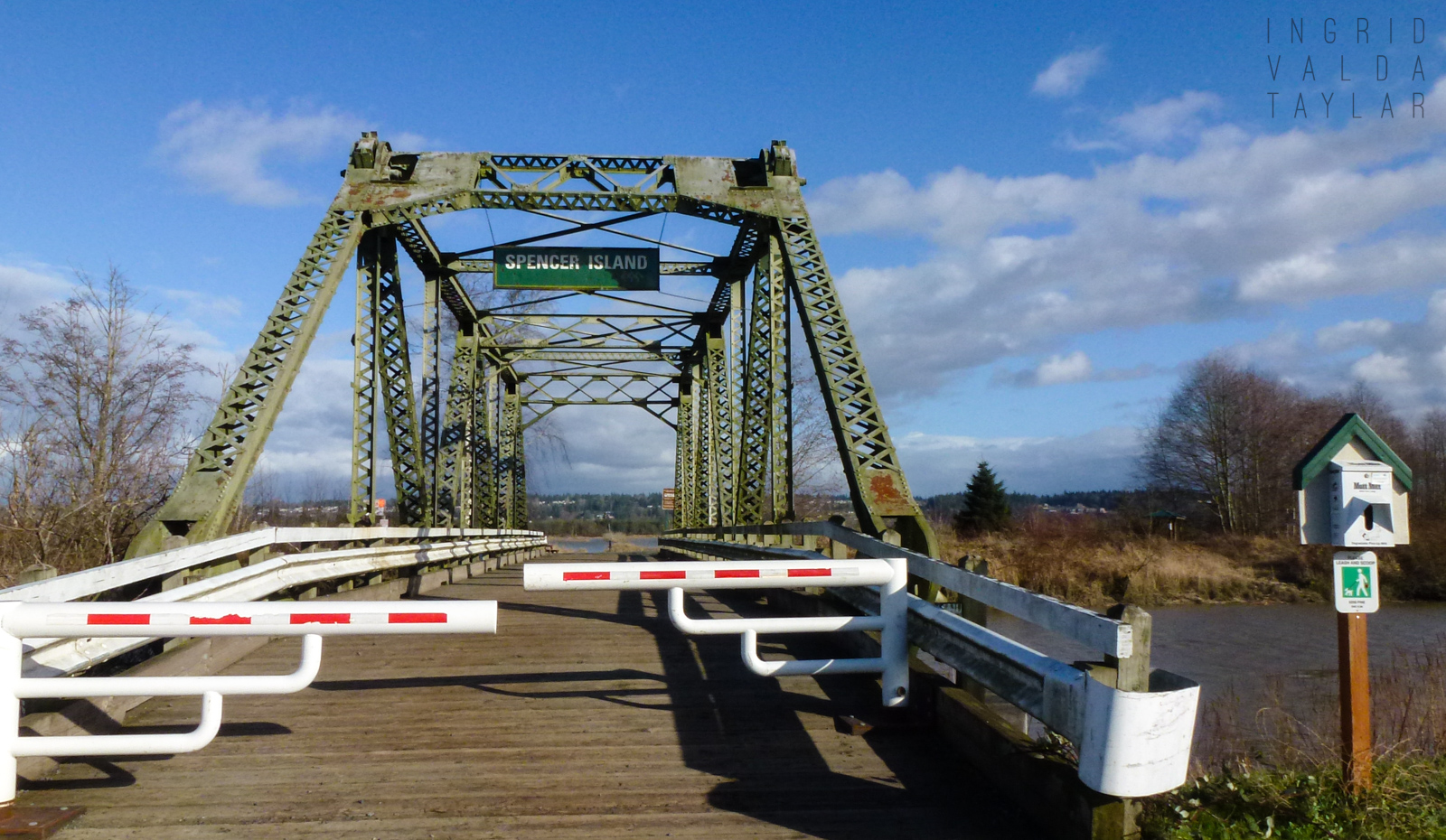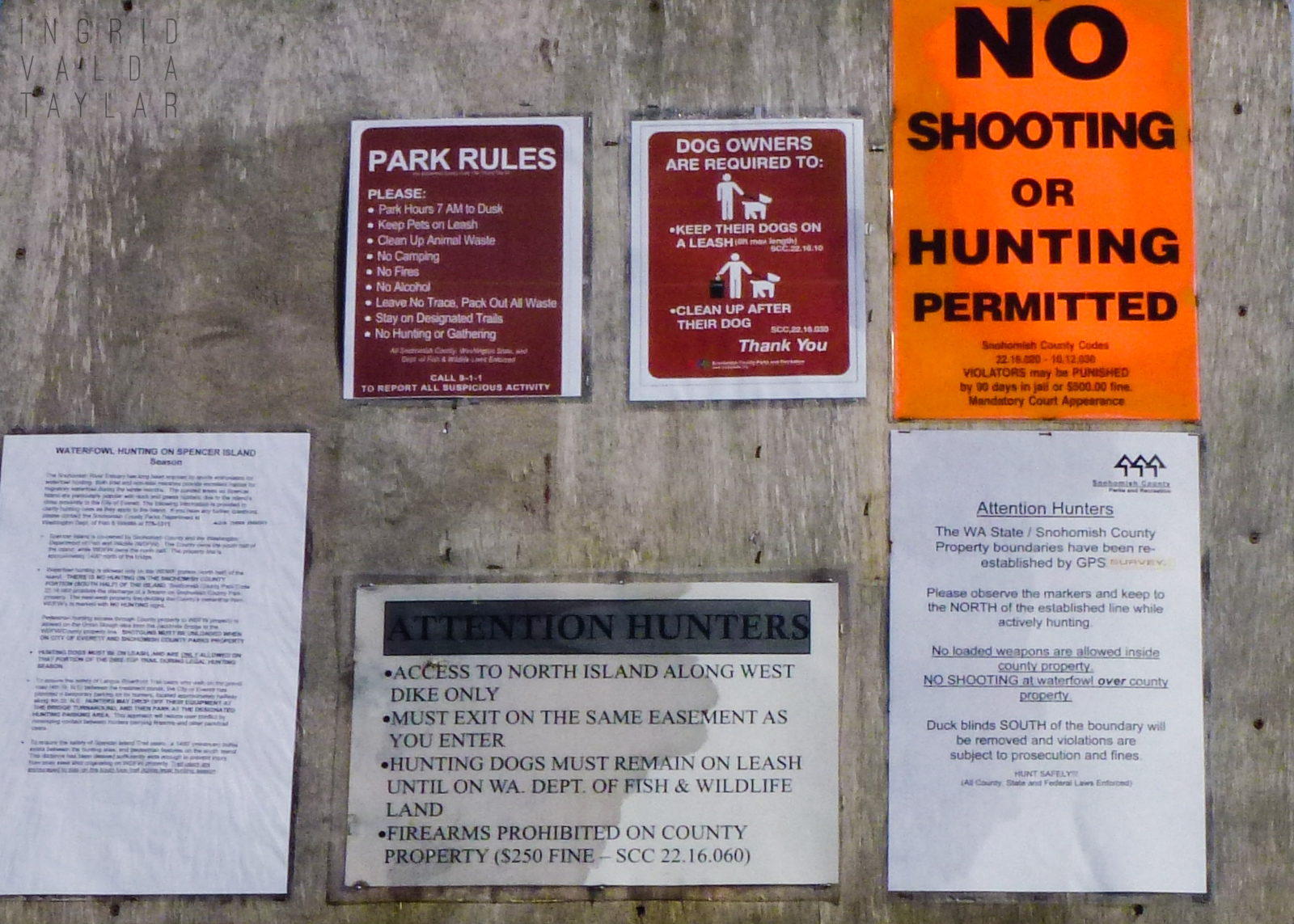 It was after hunting season so I figured it didn't matter which way I turned. But I ventured onto the Snohomish County side, walked the Cross Levee Trail through the wetlands, then backtracked on the loop trail which took me to the northern side. It was spectacular in terms of terrain. I miss those big swaths of tidal wetlands, so I felt right at home.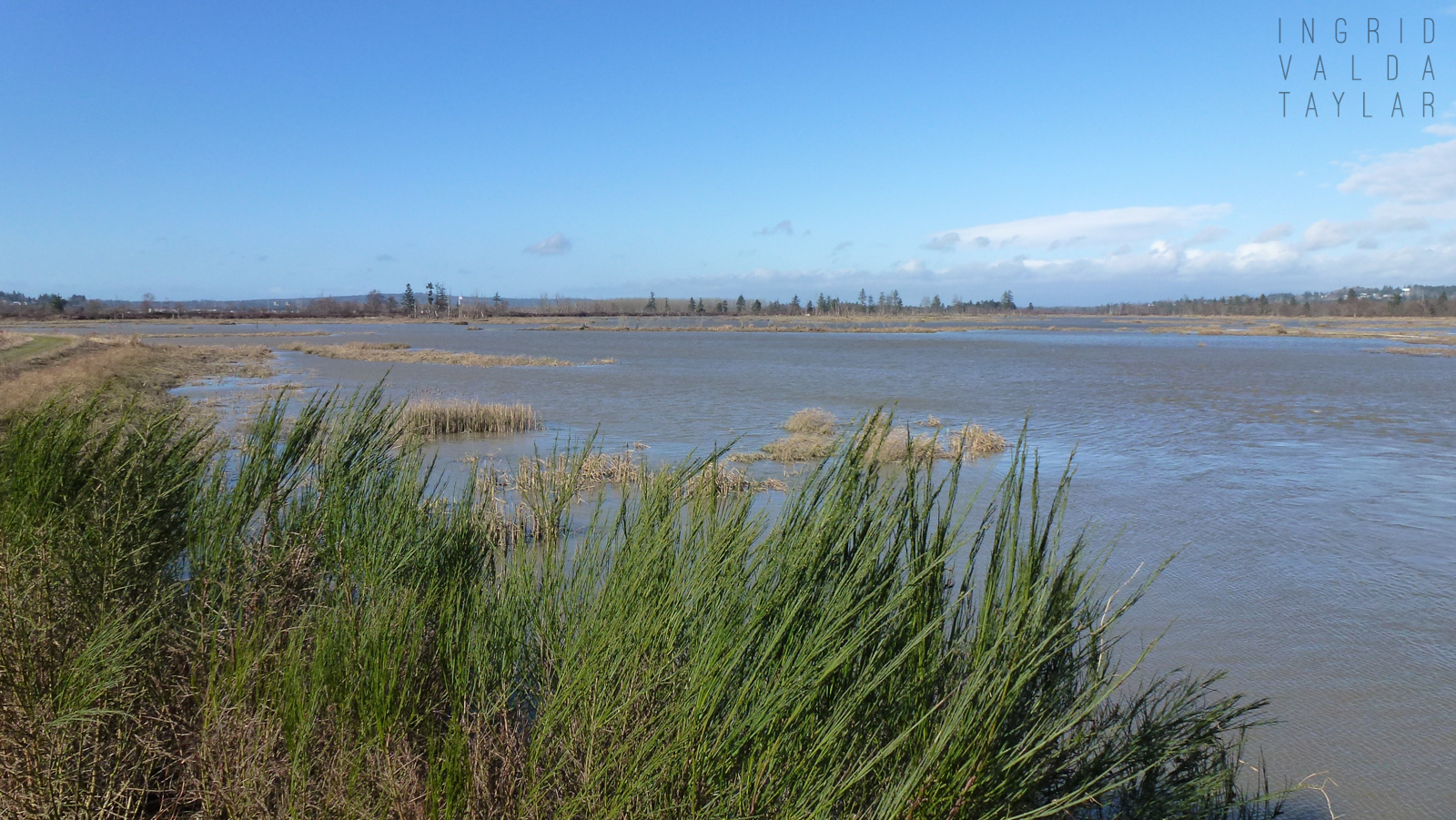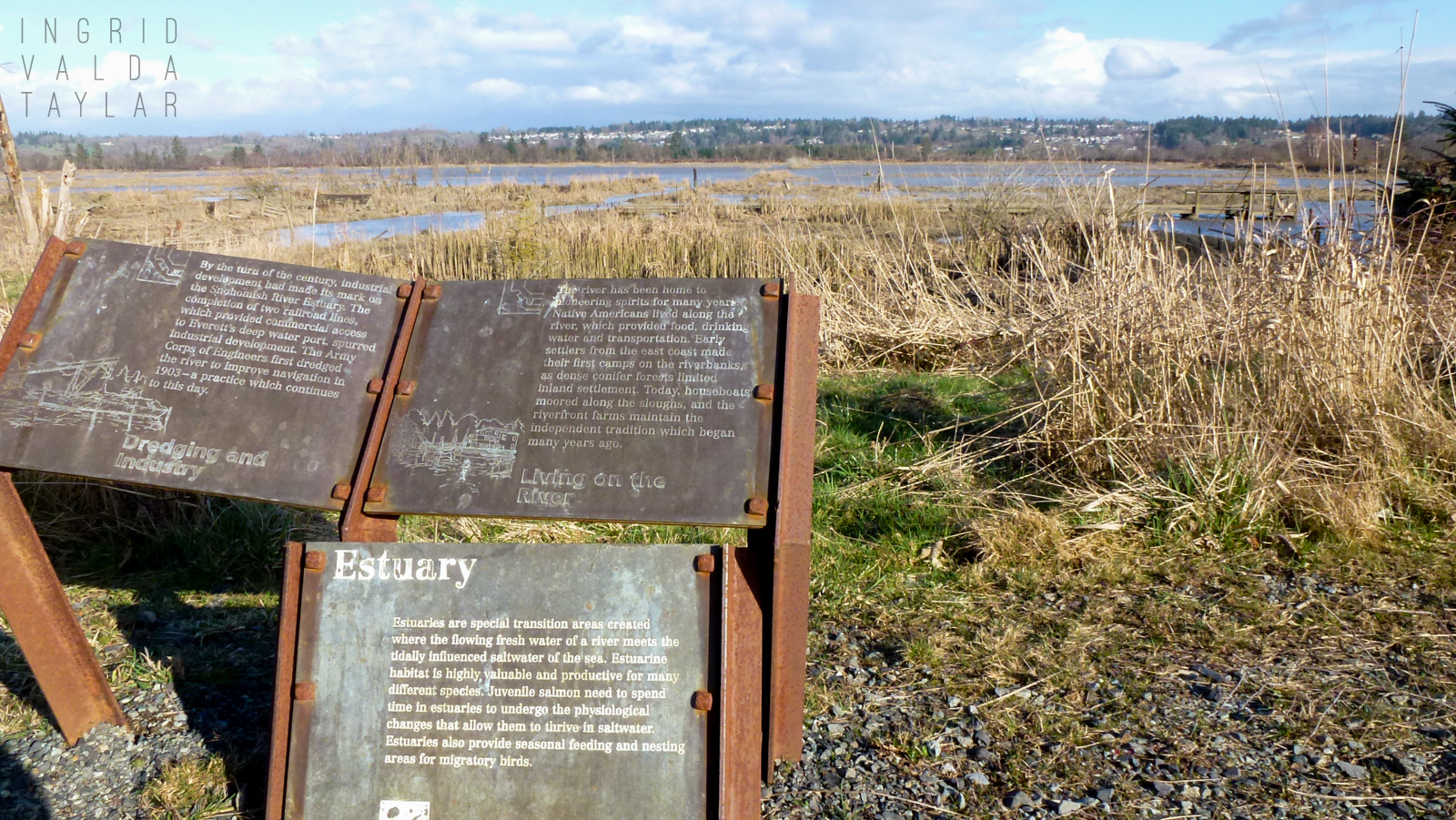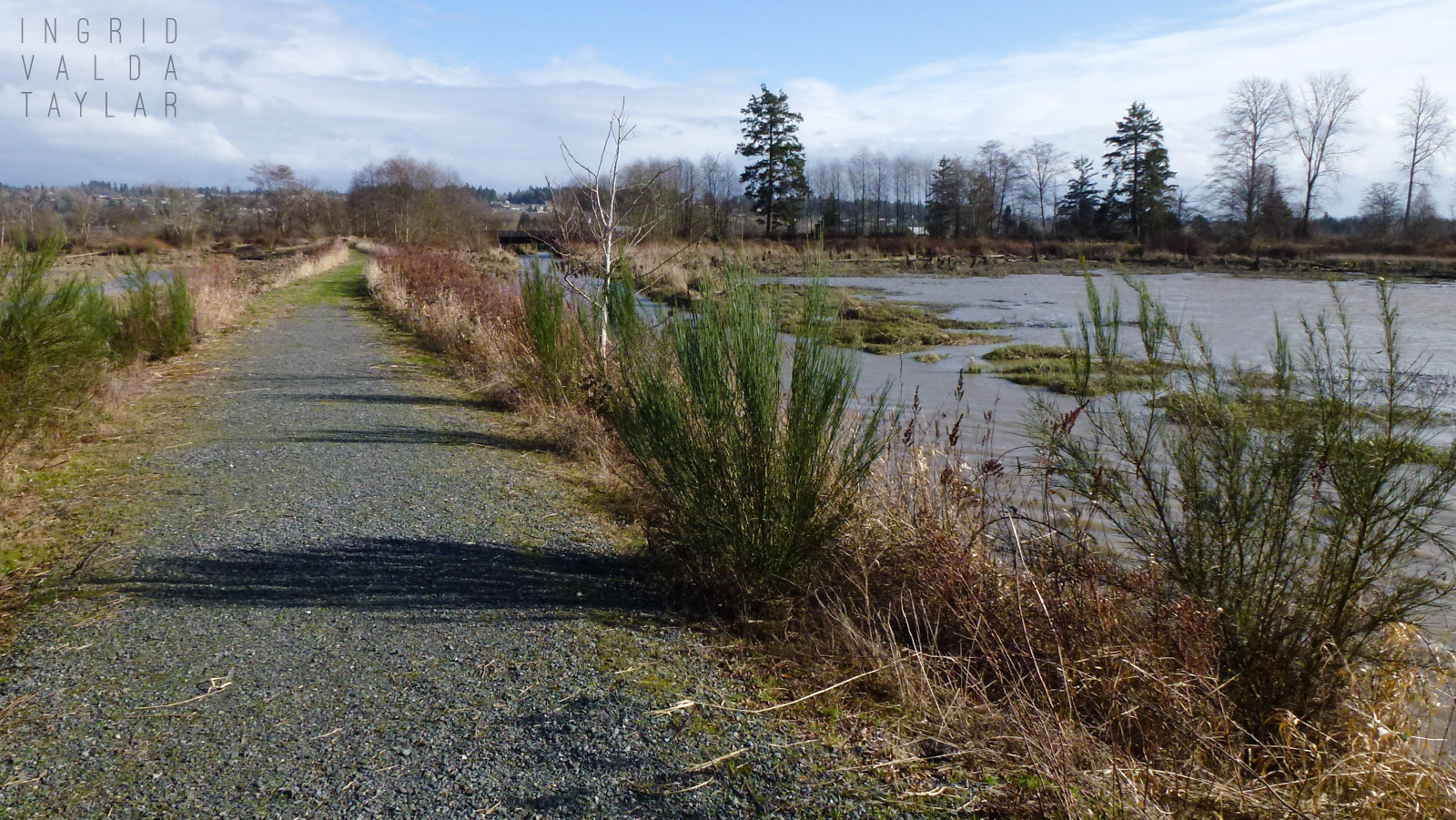 But where were the birds? I saw one Northern Harrier swooping across the gravel road when I came in. And after that, nothing for a very long space of time until my appearance around a bend flushed four Mallards at 6000 yards, just about, poor birds were so skittish. I didn't see any movement in the thickets. I didn't hear any bird calls.
I decided this was simply an afternoon stroll, not a bird photography day, so I headed into the wind with the hum of highway traffic behind me. I did take a picture of my own shadow with monopod, texturized by marshland grass.
I didn't see one other bird that day in all of that acreage. Until the very end … this juvenile Red-tailed Hawk perched over the wetlands on a tree snag. I snapped one quick shot, then saw him fidgeting as he looked back at my lens. I moved on and left him alone.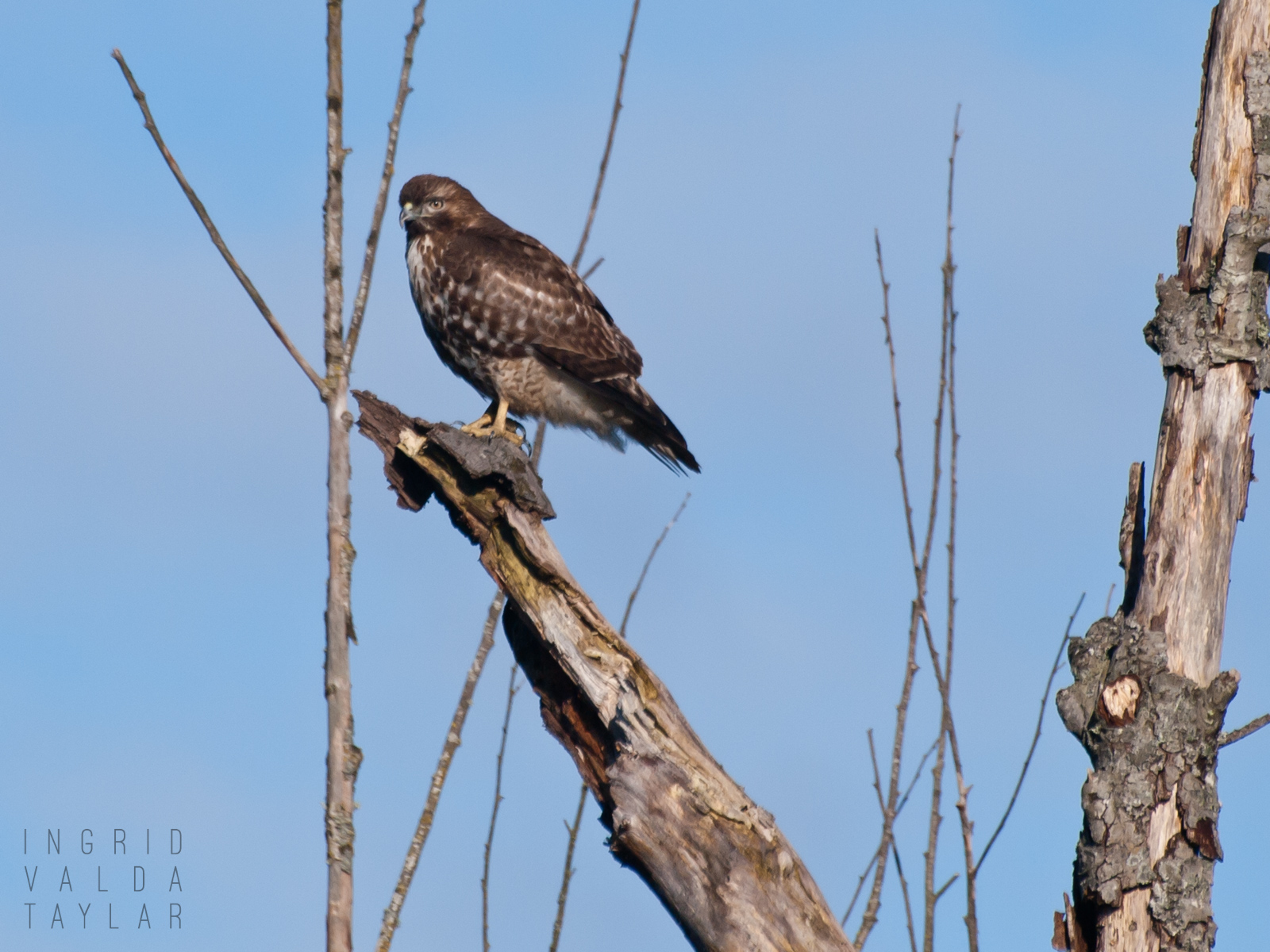 I'm not giving up on Spencer Island, but I want to know, Washington friends, did I hit it at the wrong time? The migratory ducks are still here in Washington. The tide was low, probably accounting for the dearth of ducks and geese. But, I was surprised there was not a chirp from a robin or a wren or phoebe or a chickadee. Literally, not one sound of a bird. Was it something I said?
I couldn't help but think of Rachel Carson's Silent Spring — a muffled landscape, with no song of birds. It's eery … depressing. I don't know if people (outside of us nature geeks) realize how creepy this world would be without that. Go to Spencer Island on one of its quiet days if you ever want to find out.
Edited to Add (March 2, 2012) — On the local bird-sighting list I follow I just saw this report from Spencer Island, posted a week after I was there:
"Our field trip today to Spencer Island yielded prolonged looks and listening to Fox Sparrows, Song Sparrows, Spotted Towhees, Pine Siskins and three wrens in the woodsy areas, plus nice views of Cinnamon and Green-winged Teal, Pintails, Gadwalls, and Lesser Scaup, Ruddy Ducks, and Ring-necked Ducks. Passerines were singing on territory, and GW Teal were displaying. We also had very nice close looks at perched Northern Harriers and Red-tailed Hawks. Probably the best bird of the day was a very cooperative American Bittern. 49 species"