I've been absent from this space more than I've been here, my heart consumed with care for our four-legged kid. We've been nursing our beloved girl, Jackie, through an acute form of leukemia — and she lost her battle yesterday, bundled in a fleece, huddled in our arms.
To say that we are heartsick is likely the greatest understatement I'll ever make. She was so much a part of our world that no decision, no plans, no ideas were ever entertained without considering how they would affect the three of us. We've always said she is family, but she was even more than that. She was integrated into our existence as our constant, our sunlight, and our endless source of love, peace and understanding. Now, in the span of just a day, she's gone … and sorrow is our new normal.
More than twelve years ago, Jackie was put out by her owners and left to survive on the hard-baked streets of Los Angeles. She was road-wary and tough, but still a marshmallow of affection. She came to us with clear intent, walking into our kitchen door with a list of  preferences and a new life plan for us.
We had just lost a cherished kitty family member a few months earlier, a tuxedo cat named Lexi. My father and Hugh's father, too, had died shortly before that, all part of a crazy vortex at that time. We didn't yet know Jackie's full story and I don't know if she suspected the circumstances of ours. Perhaps she did grasp it all on an ethereal level. I think cats are sublime spirits with the true keys to enlightenment. But, in our physical plane, it was clearly a circumstance of three lost souls meeting one another across species lines, and across the kitchen threshold.
I always try to remember John Lennon's line, "life is what happens when you're busy making other plans." Jackie happened when we were busy making other plans, swallowed in uncertainty. From the first day she decided we were her new home, she curled up in our laps with eyelids fluttering in deep REM sleep, utterly content, it seemed, with her choice of domicile —  irrespective of whether or not we were ready. We simply had no say in the matter.
She had poses of cuteness that would melt the heart of a Yeti — and sea-green eyes that everyone referred to as her "owl" eyes. Her whole body rumbled with the power of her purr.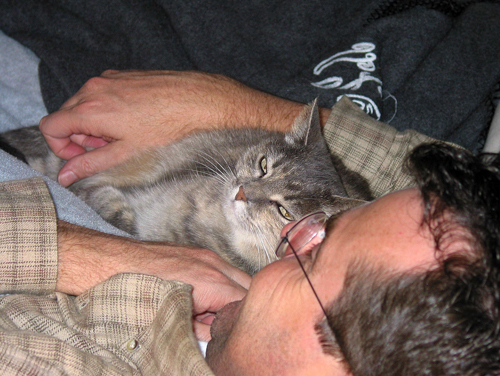 Jackie was a determined little soul, but also heavy of heart. She had ailments which hurt, and fears which drove her to panicked retreat. Our first months together were about navigating those boundaries as gently as we could with this dear person. We had glimpses into her inner turmoil and I'm so grateful — especially now that I can no longer talk to her, see her or hold her — that we committed to never utter even a loud word to this girl whose world had already been so harsh.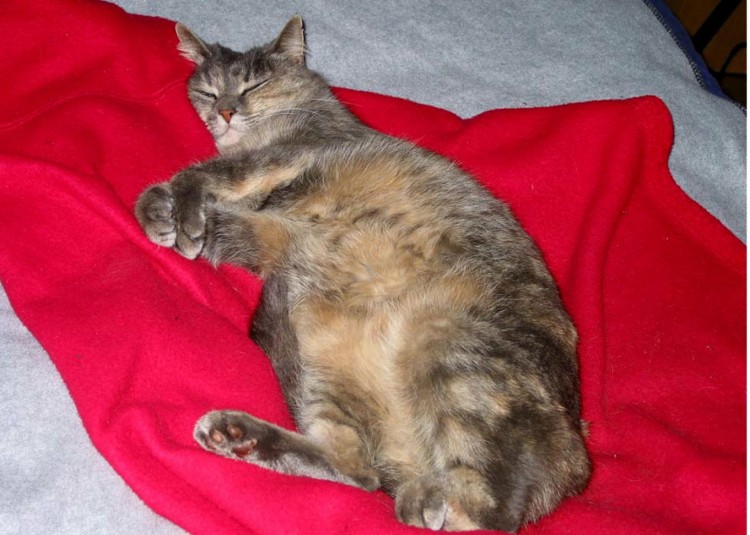 I have often said that I believe non-humans are here as our teachers — and that we humans ignore that gift at great cost to our understanding. I treasure the lessons I've learned from wild animals, and how their fortitude and resilience helps me overcome the blocks I sometimes erect as a human being with far too much attached to the tangible.
Jackie was a teaching, healing spirit in the most big-hearted way, rolled up in a teddy bear body, never leaving my side through arduous times and years, through unexpected illness and loss, transformation and relocation. She helped us muddle through life's travails, and was also the source of our biggest joys. We called her 'velcro cat,' because wherever we were, there she'd be, jockeying for a spot somewhere pressed up against one or both of us — touching our faces, our arms, our hearts with her plush little rabbit feet. It was if she was insisting we never forget about love, because she was the very embodiment of it. She left us both better humans by reminding us of that fact at the end of every day. If ever an earth angel existed with four paws, we know Jackie had wings.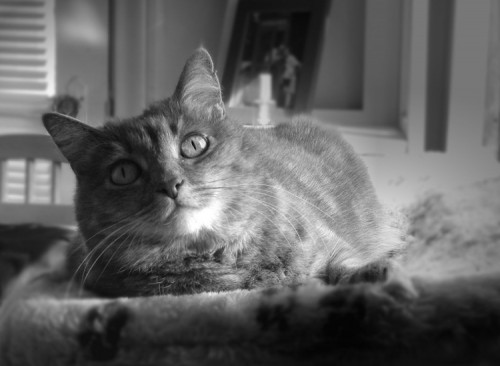 I will miss our dear, sweet, lovely Jackie for the rest of my life — and feel gratitude forever for the twelve years of solace she purred into our existence. I'm so relieved and fortunate she showed up that day, unannounced, unexpected, with bags packed and ready to move in. I try to imagine what life would have been for her or for us, and it feels inconceivable that we might have never met.
As the two of us wander this empty apartment with her fleeces, her dishes, her toys — tears flowing, hollow in her absence — we've said more than once, we're not sure exactly how we will navigate this loss. I know we will, because that's simply what we all do, in our own personal journeys through grief. But right now, these letters I type feel like specks of dust falling into a black hole. I'm zombified with grief and wracked with all of the "what ifs" and "should haves." Until words seem relevant again — until I can say the name "Jackie" without opening up that spigot of tears — I'll be off to the side here, waiting for time to take the weight off my heart.
A much healthier and younger Jackie … and a younger Ingrid, too.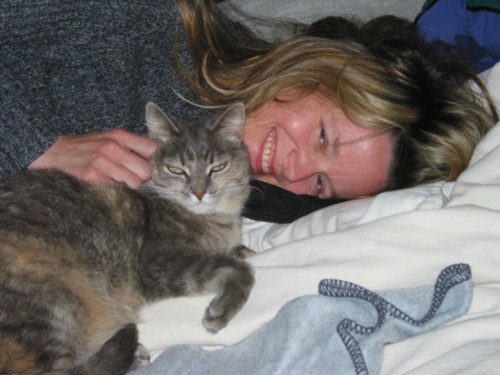 ======================
In honor of our dear Jackie Kitty:
I received a letter this week from Washington State University. It began, "Washington State University's College of Veterinary Medicine was recently contacted by doctors and staff at your veterinary hospital that your beloved Jackie has passed on. In honor of the special relationship shared between you and Jackie, your veterinarian has made a monetary donation to the Pet Memorial Program at Washington State University."
Included with this letter was a brochure describing the Pet Memorial Program, including a toll-free number for their pet loss hotline. I have relied so heavily on the kindness of a few friends who've been walking me through these dark days in the absence of my beloved Jackie. Without them, the loss would feel utterly unbearable. If you find yourself in that position, with nowhere to turn with your sorrow, here's the phone number offered by the WSU vet school: 866-266-8635 (toll free). They staff the hotline from 7p to 9p, Monday through Thursday, and from 1p to 3p on Saturdays. The website is: www.vetmed.wsu.edu/plhl.
A few other pet loss resources:
Cornell College of Veterinary Medicine: (607) 253-3932
Tuesday, Wednesday, Thursday / 6-9pm EST
https://www.vet.cornell.edu/Org/Petloss/
Pet Loss Website: https://www.petloss.com
Rainbows Bridge Pet Loss Forum: https://forums.rainbowsbridge.com/?forum=150830