My affection for wildlife in urban and industrial settings brings me the subject of steam. There are obviously a lot of distracting elements in urban photography. Although I lean toward a photojournalistic style of realism when I encounter them, I also find it challenging to show the grit of these scenes while retaining some aesthetic and balance in the shot. That's when I'm shooting wider, contextual shots.
For closeups, even in the city grind, I can often find great backdrops or natural frames that use urban components to enhance the shot (well, at least in my humble opinion). My most recent example: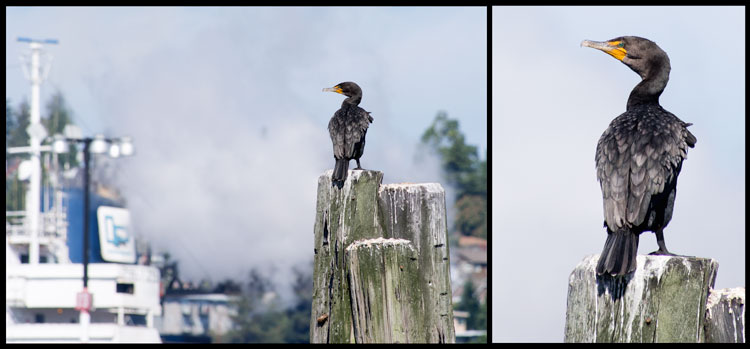 I saw this Double-crested Cormorant perched against a Seattle shipping dock where the clutter of the background is also what makes the setting visually interesting to me: Fishing boats, super yachts, cruise ships, Coast Guard Zodiacs and Seattle police on water patrol are elements of this "natural" environment.
The cormorant was perched and preening on a piling in front of this chaos, but I noticed one sphere of murkiness behind the silhouette: Puffs of steam wafted in the background. I positioned myself so that the steam shrouded the maritime activity behind the bird.
I shot one frame wide to show the whole scenario, then zoomed in for the more isolated shot of the cormorant, to show the contrast in point of view.
My previous favorite bird + steam shot was Gull of the Revolution, photographed on a winter day at the Seattle waterfront, framed by skyscrapers, steel girders and cloud puffs from the Seattle steam facility in the background. I converted it to almost-sepia: