Light Painting the Seattle Space Needle at Christmas
This photo was the serendipitous outcome of a flawed system. As much as I love my lightweight tripod, he cuts a moody figure in aluminum. Sometimes he's steady and sometimes he sweeps the frame with creep and blur. I was on a hill shooting the Space Needle and, unfortunately, his joints now aged and eroded, couldn't sustain the angle and weight. So, while positioning a one-second exposure, the tripod head moved just enough to brush these striations of light across the canvas. When I realized how imperfectly beautiful my Man Frotto's vision, I played around with longer exposures and with a few pause-spin renditions of light blur.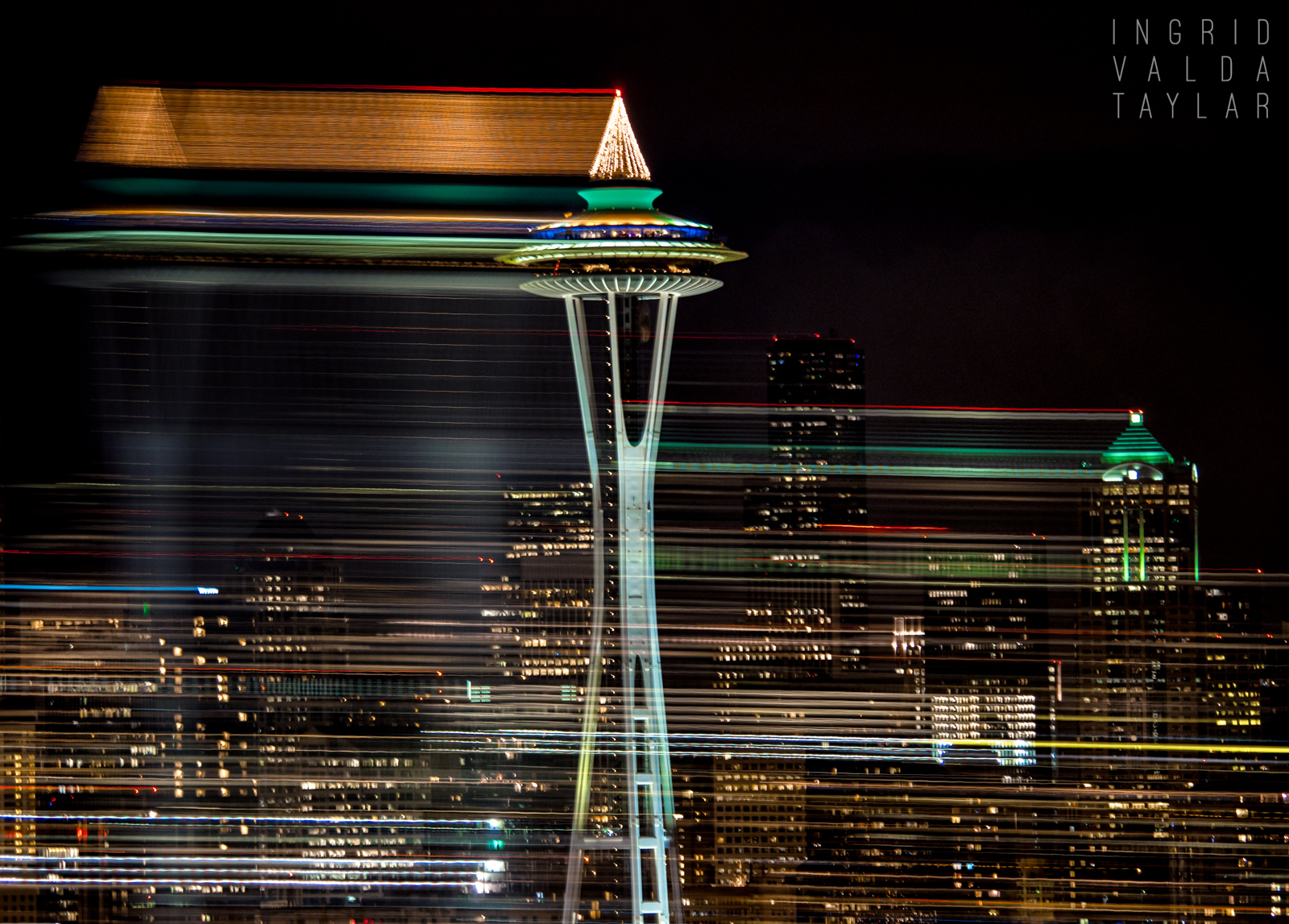 The Seattle Space Needle turned 50 this year, a year that also saw the opening of the adjacent Chihuly Garden and Glass. I photographed the 50-year-old Needle reflected in Chihuly's globes, back in September.
At the Space Needle's birth:
It took 467 cement trucks an entire day to fill the foundation hole (30-feet deep and 120-feet across) — the largest continuous concrete pour ever attempted in the West. Innovative steel construction was required to raise the Space Needle, the tallest building west of the Mississippi River at the time (the Needle is fastened to its foundation with 72 bolts, each 30 feet in length.) And to top it all off, the Needle would feature one of the world's first revolving restaurants.

The successful completion of the Space Needle in record time, with no lives lost, was a source of immense pride to our community. Eddie Carlson, the man who first envisioned the Space Needle, said, "It wasn't just building a building, it was building a structure that hadn't been done like this before." He added, "Plenty of people thought we had been selling pie-in-the-sky. And then one day they looked up, and there this thing was, spinning around."

~ From Space Needle – 1961: The Race to Build Begins
Earlier this year, members of the Wright family, with ties to the Space Needle's construction, applied a finish of Galaxy Gold paint to the top of the Needle, commemorating its original color. Now, Galaxy Gold is turning to evergreen, a new Needle design voted on by Seattleites. A circular tree pattern by Nicole Commins won the contest, inspired by theme of The Emerald City.
For the holidays, 1,200 lights comprising a Christmas tree (pictured in my photo) illuminate the rooftop, 560 feet above Seattle.
The image below is a bit more light painting without a tripod, shot from a more distant view point, 2-second exposure. Both photos shot with the Olympus OM-D E-M5 + Lumix 100-300mm lens.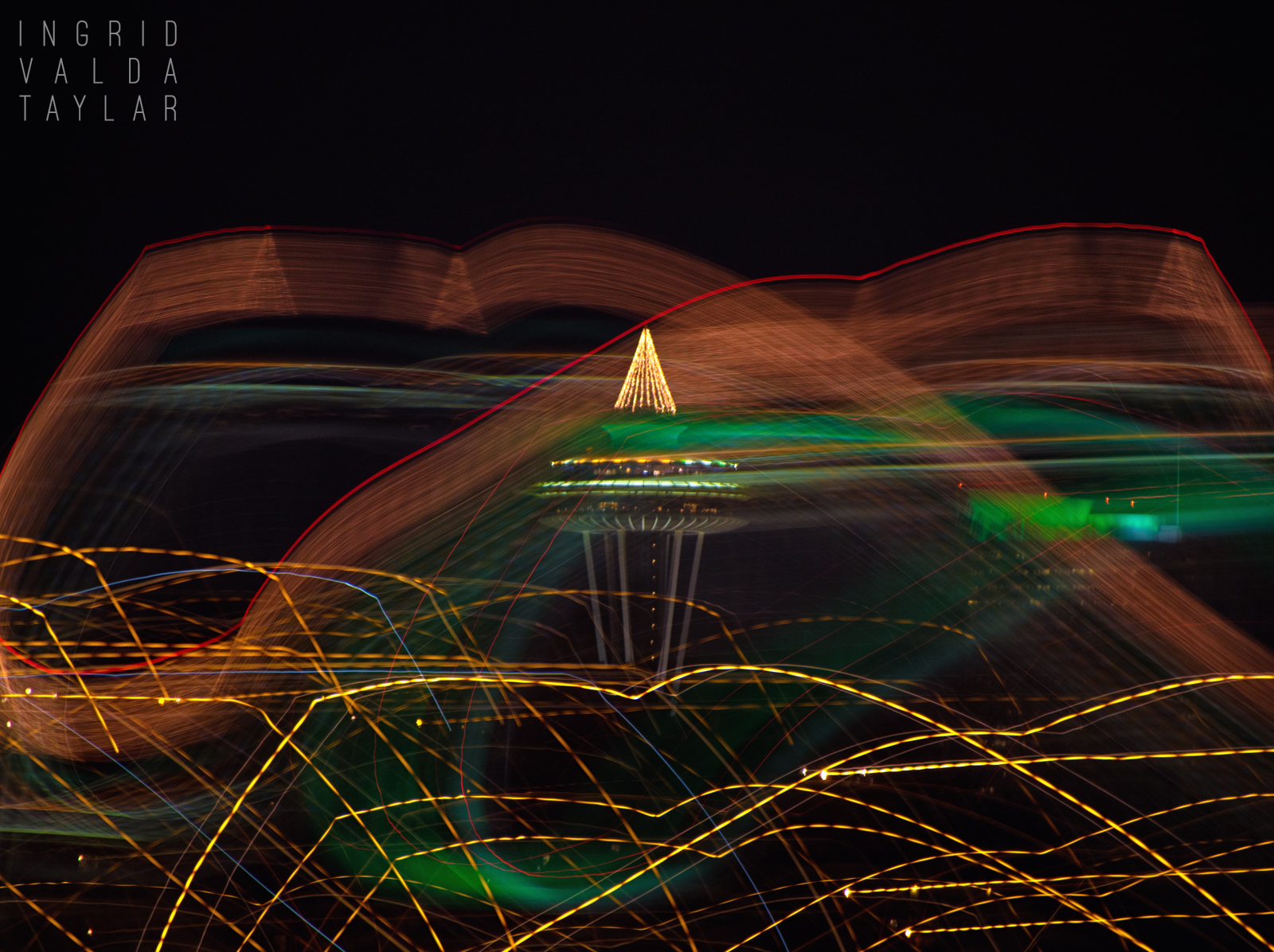 A few more Space Needle factoids:
** From spaceneedle.com
There are 25 lightning rods (24 actual rods plus the tower) on the roof of the Needle to withstand lightning strikes.
The restaurant turntable revolves on a track and wheel system that weighs roughly 125 tons, borrowed from railroad technology. All it takes to make the turntable revolve is a 1½ horsepower motor (originally it was a 1 hp motor).
The Space Needle sways approximately 1 inch for every 10 mph of wind. It was built to withstand a wind velocity of 200 miles per hour, doubling the 1962 building code requirements. When winds around the Needle reach high speeds, 35 mph or higher, the elevators are designed to reduce their traveling speed to 5 mph for safety reasons.
Top of the Space Needle – Aircraft Warning Beacon: 605 feet