[Photographed from shore, at a distance, with tele lens + 1.4x teleconverter — no disturbance to the otter]
Southern Sea Otter Eating Kellet's Whelk – Kelletia kelletii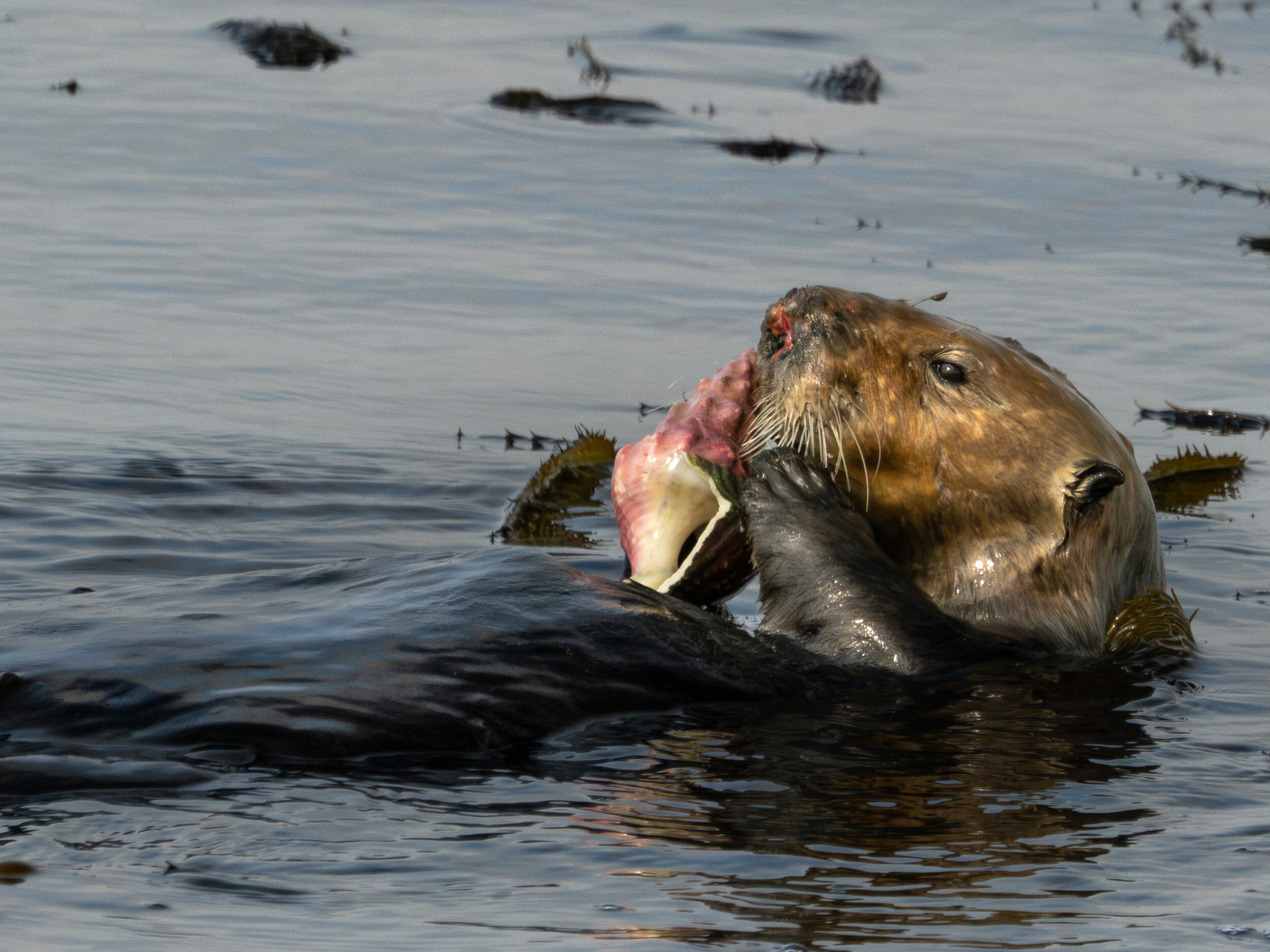 We heard the cracking first — the telltale sea otter sounds of mussels crushed in teeth, or shells hammered on belly rocks. Those sounds punctuate the oceanic lulls along the Monterey shoreline. Once in a while, we hear metallic echoes from otters using nearby docks and pilings as cracking tools.
This percussion was loud — louder than usual — and persistent. When I pointed my lens I saw some vigorous shell-crushing by a female otter, identified by her scarred nose (a typical mating injury).  She was slamming a cone-shaped shell against a huge rock on her belly, but I couldn't identify the prey. The color of the shell faded from pink into algae green, and the size dwarfed the otter's front paws.
When I later offloaded the images onto my Mac, I saw it was a large sea snail. Based on other photos I'd seen, I thought the snail was probably a Kellet's Whelk. But, I didn't realize until I posted it on social media that this was a relatively uncommon sight for Monterey Bay. I included my photo in an Instagram post, along with the tentative ID, which then led to this post by Sea Otter Savvy:
Southern Sea Otter Prey and Food
I've seen and photographed sea otters with many other foods and prey, including:
mussels
clams
abalone
urchins
octopus
sand dollars
turban snails
innkeeper worms
sea cucumber (caught but not eaten)
Capturing moments like this thrills my citizen science self, and thrill is not an overstatement. The inherent joy of being in nature, observing wild animals, is made that much better by the discovery of each detail and the novelty of some moments. I'm not sure if this is a once-in-a-lifetime photo op, but I'll definitely be looking for another Kelletia catch in an otter's paws and claws.
Video of Southern Sea Otter Cracking Open Kelletia kelletii (Kellet's Whelk)
ingrid
2023-09-12T06:29:41+00:00
ingrid
2023-08-11T05:09:01+00:00