It's thematically appropriate that our move to Seattle — Jet City — inspired my first aircraft-on-moon shots. I'd just photographed the Wolf Moon at the Space Needle … layering two exposures to bring the moon into focus.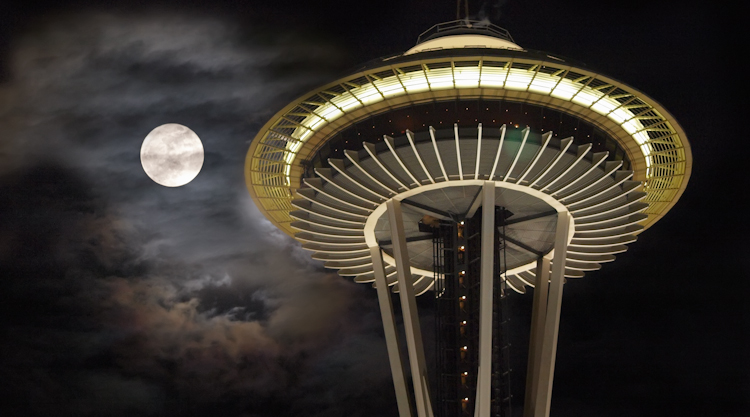 I didn't realize that when we finally moved into our tiny hillside apartment, I'd have some time to hone my plane-on-moon camera settings. Our view eastward sometimes includes a moon rise above Queen Anne Hill …
… again, a scenic backdrop to the jets that u-turn over our neighborhood on their way to the first, second or third runways.
I find that a minimum shutter speed of 1/500 works well for the plane, and spot metering on the moon retains the moon detail while turning the plane into a contrasting silhouette.

After a few full-moon cycles, practicing with aircraft, it occurred to me that the cormorant roost a short distance away might make for an interesting silhouette against a full moon. So, on the next eastern moonrise, I planted myself in a parking lot, at a distance from the urban roost, waiting for the moon to cradle a cormorant or two on the outer branches. The trees are thick with cover so there are a precious few extending limbs that allowed for these isolated frames.
I shot some backup images where the moon was fully focused, in case I wanted to layer exposures, but I preferred the way the out-of-focus moon illuminated the cormorants like a spotlight. Because the cormorants were preening and stretching and flapping, I set the shutter at 1/800 to freeze any movement.

A couple of weeks ago, the moon was rising over Elliott Bay without any dramatic structural foreground. I was hoping for a flock of geese to pass through the half slice of moonscape, with sky still indigo from the waning sun. That didn't happen, but the trajectory to SeaTac and Boeing Field ran straight across the moon again, giving me another take on the Jet City theme. These were shot at 1/500, f5.6, ISO1250 — spot metering on the moon.