Update – November 1, 2016:
I get many emails and comments related to this post — from people interested in micro four thirds (m43) and mirrorless cameras as a wildlife format. I've been shooting with Olympus m43 gear exclusively now for three years and haven't been tempted to switch. In the interim, the gear I'm now using is the OMD E-M1, with my original E-M5 as a backup body. The lenses I've used in the intervening years for wildlife photography are:  Zuiko 50-200mm; Lumix 100-300mm; m.zuiko 40-150mm; and just this month, the brand new m.zuiko 300mm.
***********************************
A local camera salesperson — who, for the purposes of anonymity, shall be named Malacoda — advised me that I will never get a decent wildlife shot with a micro four thirds camera (m43). In fact, according to Malacoda, the only way I will ever get a respectable photograph of a sitting or flying bird will be through the grace of a Canon EOS-1D X and a seven-thousand-dollar 400mm f2.8 lens. I'm definitely not going to get that shot with a "flimsy" Nikon D7100, let alone with the "poser" Nikon D600 or D800. Olympus four thirds? What? Are you kidding? Those are toy cameras. And if I'm dumb enough to buy a puny micro four thirds, mirrorless camera, I might as well lob myself off the Golden Gate Bridge because my self worth will not hold up under the derision I'll face in the field, wearing just a necklace of a camera.
I didn't see the point in telling Malacoda that I already own a micro four thirds camera … and that for four years, I photographed wildlife with its technological predecessor and a $300 lens. His mind was set on the legitimacy of Canon full-frame-or-nothing. And my wallet left the store a little thicker for his obstinance.
As a smallish woman with smallish camera gear, I'm pretty jaded to the unsolicited reactions I get, on and off the field. Men with monster lenses often take me under their wing, teaching me a thing or two about the grown-up world of photography. Malacoda just copped to that usual stereotype. I know I could be all indignant about the patronizing advice, but the truth is, I thrive in the role of the underestimated.  Speak softly and carry a small camera is what I believe Theodore Roosevelt would say today.
And that's what I'm going to do from this point forward: carry a small camera. (I can't promise the "speak softly" part.) I'm storing away my four thirds gear in exchange for micro four thirds all the way. I'm shaving off a few pounds of body weight and viewing my universe through an electronic viewfinder.
There aren't a lot of people raving, without reservation, about micro four thirds cameras in wildlife photography — and that's part of the reason I'm mentioning the gear at all. My experience disputes the negativity of cynics like Malacoda. I'm excited to push the limits of this format to see what I can do with a purse-sized package.
There are some shortcomings and trade offs. For example, so far, there's no high-end wildlife prime lens or even a pro-level zoom lens for m43. The existing tele lenses, like my Panasonic 100-300mm, have weaknesses requiring work arounds — especially for fast-moving subjects like birds in flight. But, for me, traveling light and always on foot, I've found myself shooting the bulk of my images this past year with the Olympus E-M5, a micro four thirds setup. More often than not, I've left my DSLR at home. And in that time, the micro four thirds format convinced me of its potential, and proved its benefits to my lifestyle and to my back and neck muscles. The new Olympus body coming out this month (the E-M1) promises compatibility with my better wildlife lens which could seal the deal for me in perpetuity.
These photos show the size of my E-M5 + Lumix 100-300mm as compared to a Kaufman field guide — and also my hand: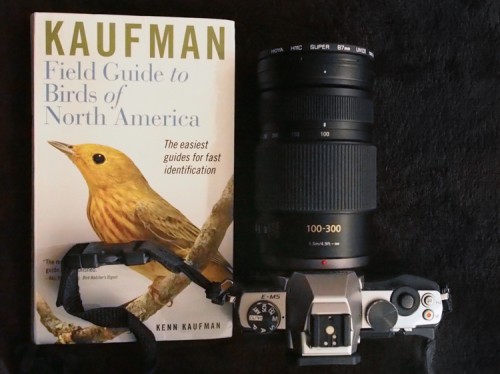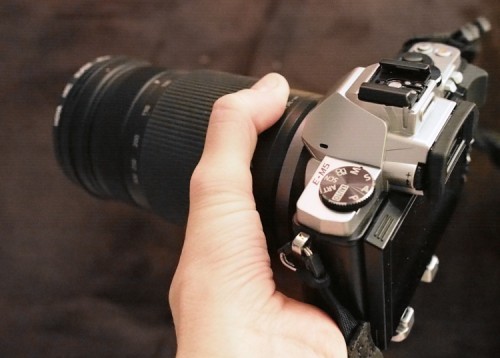 Consider me, for the next year, unencumbered but still carrying my big stick of a photographic experiment … in the form of this little camera … with a creative view to its achievements and possibilities.
Some wildlife photos from the past year, shot with the E-M5 + Lumix 100-300mm: