The Barred Owl and the White Hat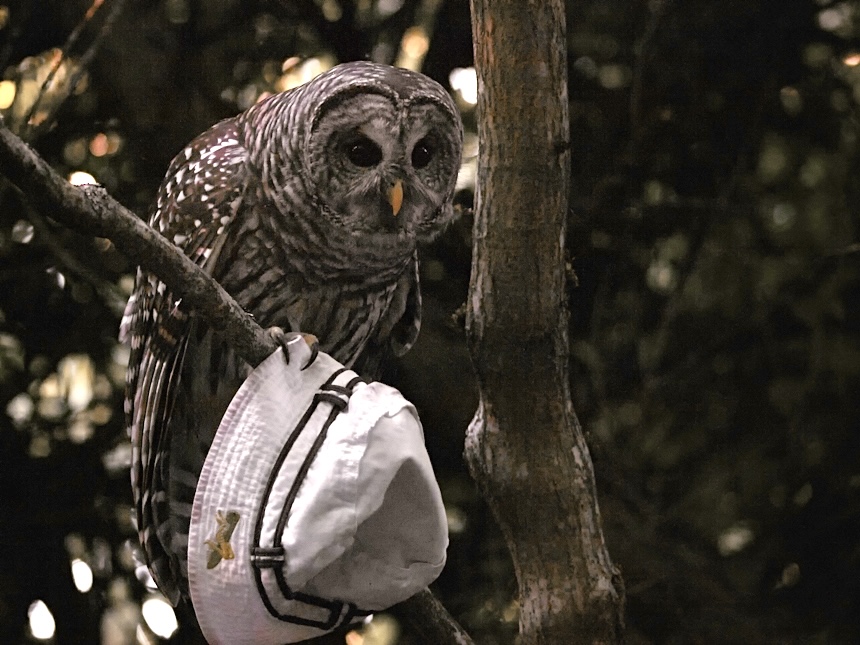 Barred Owl – Woodland Park, Seattle
[Photographed from a distance, with tele lens, from a public walking path.]
Barred Owl in an unusual encounter. [Photographed from a distance, with tele lens, from a public walking path.]
This is an older photo and story, from when Hugh and I lived in Seattle for several years. I was walking through Woodland Park one evening, not too far from the zoo area. A mother and her young son were walking in front of me on the path.
Without any warning or sound — the typical, silent moves of an owl — a Barred Owl swooped down and grabbed this white hat off the boy's head. The owl then veered up to the nearest tree branch and perched with the hat in its talons.
The boy was unharmed. The owl lifted the hat off his head so swiftly and skillfully, it didn't cause any injury, not even a scratch. The boy seemed more excited than startled by the encounter.
It was getting close to sunset, but I was able to get a few shots of the owl as it played with the hat, pulling at the fabric, checking out every fold.
Whatever it was that motivated the owl to swipe the hat in the first place, eventually morphed into disinterest. The hat dropped to the ground … also unharmed. And, the boy, I assume, still has this story to tell about the time he was walking in Woodland Park, and a Barred Owl [gently] flew off with his white, crumpled hat.