Puget Sound steelhead travel through the Ballard Locks at a fraction of their glory-day numbers. According to this post at the Friends of the Ballard Locks blog, two to three thousand steelhead used to migrate through the locks. Now, if visitors see just one steelhead looking back at them through the window, they're lucky. A slew of environmental assaults put steelhead on the threatened list in the Pacific Northwest. Those factors include habitat loss, damming of rivers, and over-fishing … you know, the usual suspects.
That's why I treasure this particular sighting. On recent visits to the Ballard Locks, I've seen always one, but sometimes two young steelhead in the fish ladder windows, grasping at fragments of food pulsing through the attraction flow — which mimics the natural force of streams. I checked with a ranger and with a salmon-savvy friend to make sure I had the correct ID on my fish.
These steelhead are in the same genus as salmon, and are the same species as Rainbow Trout — Oncorhynchus mykiss. They're the sea-worthy (Anadromous) ones, and those who migrate outward (as opposed to remaining freshwater trout), head west into Puget Sound and the ocean. The fish ladder is their halfway house — facilitating the transition from fresh water to salt.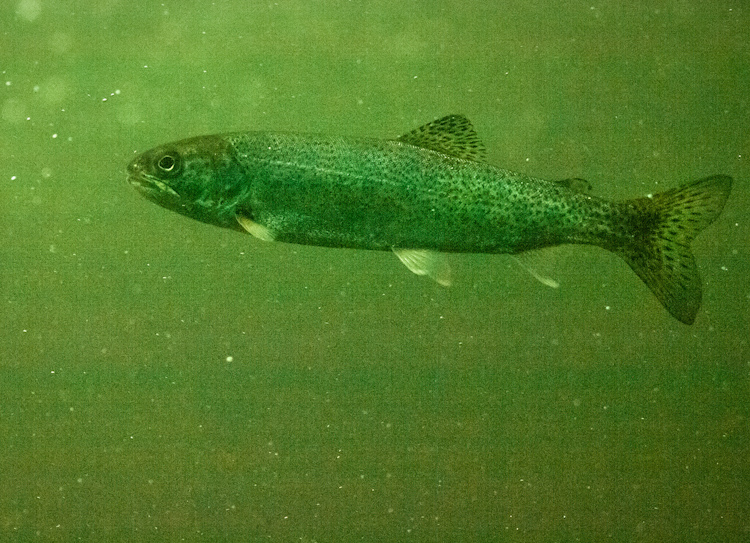 The texture in this image was a result of shooting at high ISO and through hazy glass in the viewing area — no textures added. I did a bit of noise reduction in Lightroom, then tweaked contrast, whites and blacks to bring out the fish against its background. Shot with my Olympus E-3 and Zuiko 70-300mm f4-5.6 lens.