It's like waiting for a geyser to erupt … or an eclipse. There's a start time to this endeavor. At 6:45p, we're told, a North American beaver or two (or more) will swim into this stew of lily pads and systematically take them down for dinner. They have a lodge not far away, this family of four.
It's plain good fortune on our part, taking a spontaneous walk on the shoreline trail, that we encounter a local photographer who knows everything about the area: which Red-winged Blackbird nested where; the spot where the vole made his mansion; why the muskrat liked the shade under the boardwalk; and — most pertinent here — the beaver's arrival time. He's generous with his information and enthusiasm, and we are grateful. We would have left before sundown had we not learned about the main event.
At 6:30p, an astute eye spots a head popping up at the distant shoreline. ID confirmed: North American beaver en route.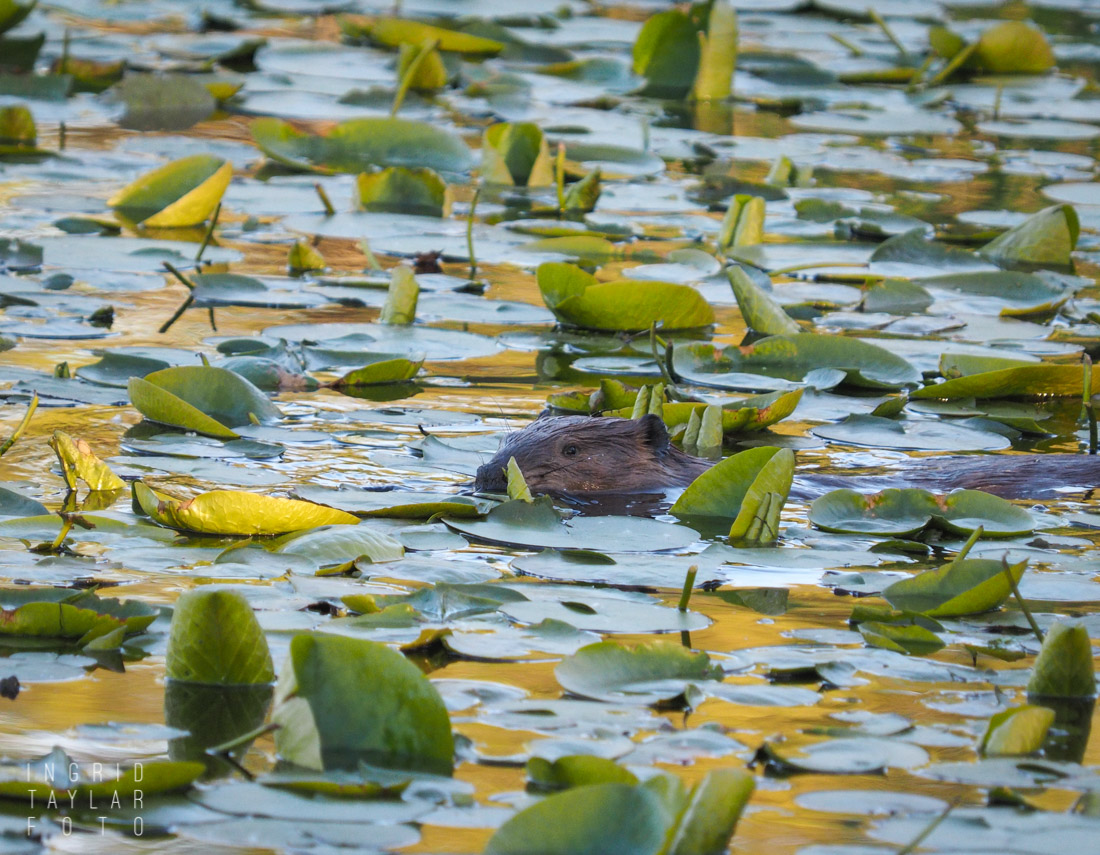 The light is on the wane, with sundown splitting rays through the branches of maples and alders. The only chance at a crisp image is if one of the beavers swims into a fleeting patch of sun with his head turned toward the light. "They seem to like the lily pads at this end," our photographer guide says.
The beaver doesn't comply with the sun. He's alone as he meanders over to where we are. In the shade, he chews his way through a lily pad buffet, rolling the leaves sometimes so tight in his agile little paws, they look like enchiladas verdes — some say like cigars.
Images shot at ISO 1250, and processed in Lightroom and Photoshop to enhance exposure and details.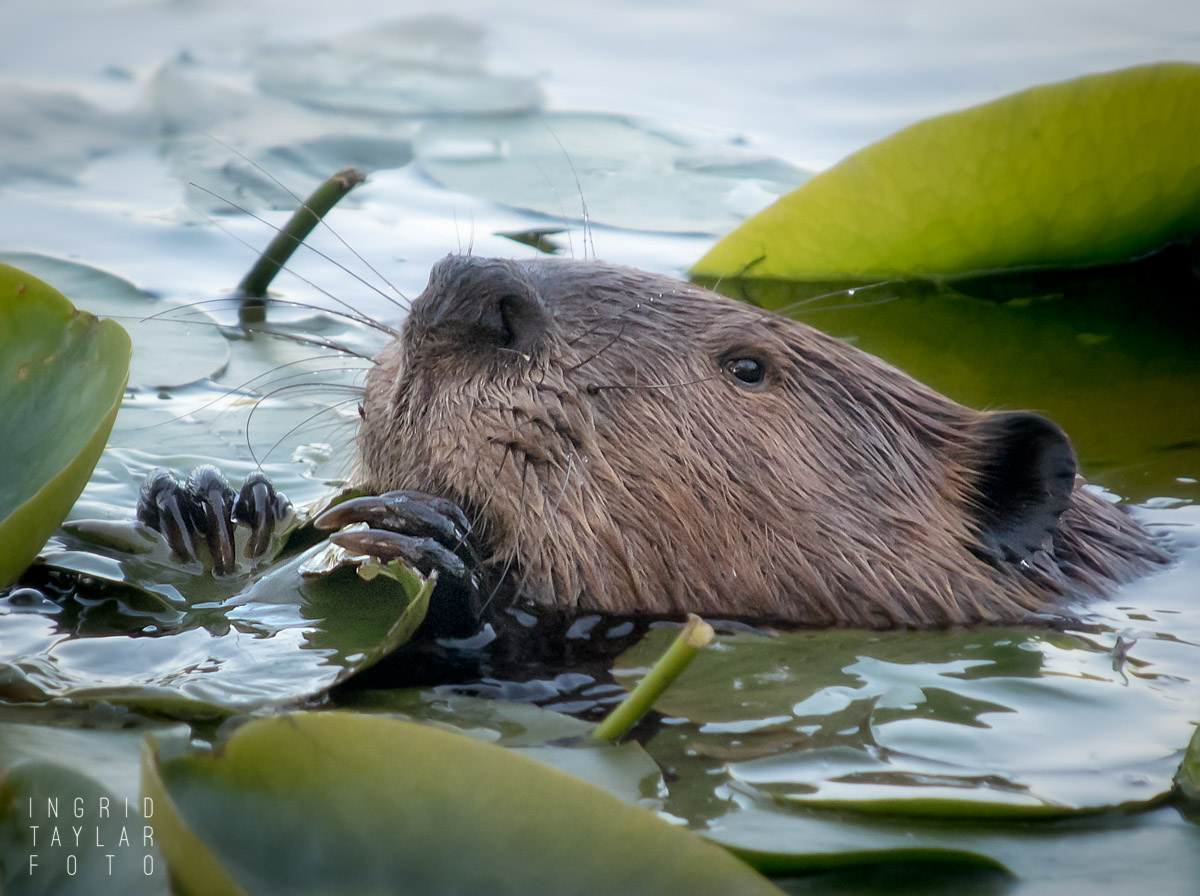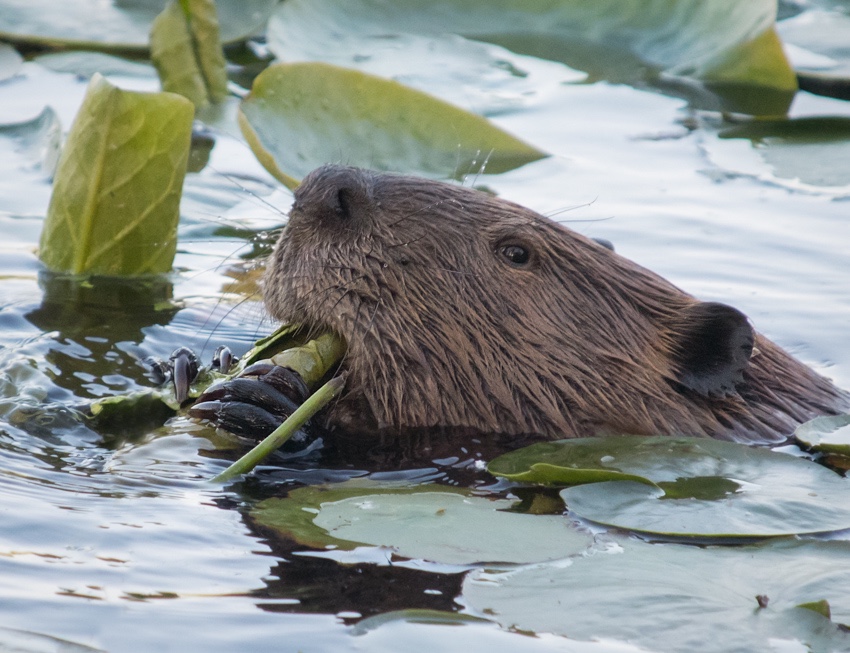 As he swims off, we notice another beaver doing turns in a distant patch of sun. We make our way over to the other platform and capture this very last gasp of sunset before the light renders everything a silhouette. You can hear the crunching sound of chewing, in and around the ambient sound of blackbirds, robins and an overhead aircraft.
Beavers are vegetarians, and lily tubers are a favorite foodstuff. Because beavers are crepuscular (loving the twilight), you'll see them most often at dawn and dusk, which accounts for the predictable in-time of this beaver family.
Beavers were nearly extinct because of the fur trade. Every time I have the privilege to spend time with an animal that barely evaded extinction (Peregrines, Brown Pelicans, egrets, sea otters, etc.) I'm reminded  of this John Muir quote:
"God has cared for these trees, saved them from drought, disease, avalanches, and a thousand tempests and floods. But he cannot save them from fools."
May all beavers and their brethren be so fortunate as to enjoy their lives, eating lilies on the lake, without running into those fools.