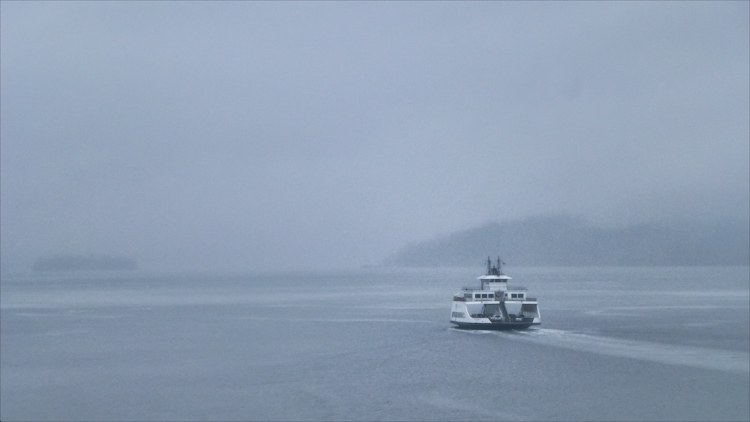 Carl Sandburg's metaphor of fog creeping in "on little cat feet" over the harbor and sky is 21 words of descriptive perfection. But, it wasn't this gentle, pitter-patter idea of fog that formed me. It was a more treacherous fog, the fog of the mire, the one shrouding fantastical and coal-black specters:
The cloud was within fifty yards of where we lay, and we glared at it, all three, uncertain what horror was about to break from the heart of it. I was at Holmes's elbow, and I glanced for an instant at his face. It was pale and exultant, his eyes shining brightly in the moonlight. But suddenly they started forward in a rigid, fixed stare, and his lips parted in amazement. At the same instant Lestrade gave a yell of terror and threw himself face downward upon the ground. I sprang to my feet, my inert hand grasping my pistol, my mind
paralyzed by the dreadful shape which had sprung out upon us from the shadows of the fog. A hound it was, an enormous coal-black
hound, but not such a hound as mortal eyes have ever seen. Fire burst from its open mouth, its eyes glowed with a smouldering glare, its muzzle and hackles and dewlap were outlined in flickering flame. Never in the delirious dream of a disordered brain could anything more savage, more appalling, more hellish be conceived than that dark form and savage face which broke upon us out of the wall of fog.
The Hound of the Baskervilles was my first Sherlock Holmes book. It lured me into the chill of the winter marsh but it didn't frighten me with its blaze-eyed hounds. I empathized with animals a child, so I couldn't embrace them as villains … even those with "smouldering glares" and fire bursting from their mouths. The world of Holmes coaxed me into the bogs and vapors, and bewitched me into loving the fog and the mysteries it conceals.
There are few phenomena as spectacular as watching advection fog sweep over the Golden Gate Bridge so quickly that you begin the one-mile passage under clear skies, and by Sausalito, the fog is tumbling over you from the west. Then, in California's Central Valley, the tule fog, a type of radiation fog so dense you can see but a foot in front of you. It's a white-knuckle, dripping sweat type of fog if you get caught late at night on that long leg between the Grapevine and San Francisco.
In Seattle, the fog does seems to travel in stealth on feline paws, but it carries across Puget Sound a savage and damp cold. My first winter here, I missed the clarity of crisp, California air and light reflected back at me in animal eyes. Now, I've learned to embrace these days of sopping low light so much that I wake up at dawn, anxious to see my world blanketed in brume, wondering how it will texturize my landscape or render perfect silhouettes of black birds … the ones I know are still looking into my eyes, even as my lens can't find the catch light in theirs.
(To be continued ….)